We're giving away awesome prizes all of the time. Enter for your chance to win trips, cash, and stunning vacation homes!
More HGTV Urban Oasis
90-Second Interior Tour
Take a quick 90-second tour inside HGTV Urban Oasis 2017, a charming escape in Knoxville, TN.
We're Sorry! The entry period for GAC Summer Across America Sweepstakes has ended.
HGTV Urban Oasis 2017
Enter twice online per day – once on HGTV.com and once on diynetwork.com – for your chance to win HGTV Urban Oasis® Giveaway 2017, a grand-prize package valued at over $600,000.
HGTV Good Bones Sweepstakes
Aleida C. - North Miami Beach, FL
John V. - Allentown, PA
Lewis R. - Anchorage, AK
Richard B. - Kirksville, MO
Design Away with $20K Sweepstakes
Gloria A. – Carrollton, TX
Red Lobster Endless Shrimp Flavors Sweepstakes
Jeanette A. - Tucson, AZ
GAC's Stash of Cash Sweepstakes
James K. – Woodbridge, VA

Travel Channel West Coast Road Trip
Audrey J. - Irving, TX
Pack Your Passport: Taste the Regions of Italy Sweepstakes Sponsored by Classico
Christina S. – Stroudsburg, PA

Live Big in WY Summer Adventure Sweepstakes
John M. – Lakeland, FL

Food Network Star 2017 Fan Favorite Sweepstakes
Louis J. – St. Petersburg, FL
Maryanne T. – San Diego, CA
Louisa G. – Johnson City, TN
Katherine E. - Excelsior, MN
Michele F. – Madras, OR
Travel Channel's Eat, Drink, Travel Sweepstakes
Kathleen T. - Warren, NJ
HGTV.com's Faces of Design Awards Giveaway
Dan F. – Stillman Valley, IL

HGTV 25 Grand In Your Hand Sweepstakes
Denise M. – Smyrna, TN
Andrew W. – Templeton, CA
Jonda S. – Benton, KY
Nick D. – Jacksonville, FL
Athene's Renovation Sweepstakes
Holle C. – Houston, TX
Flip Your Floors Sweepstakes with Vanilla Ice
Ryan B. – Bakersfield, CA
HGTV 25 Grand in Your Hand Sweepstakes
Denise M. – Smyrna, TN
Travel Channel Iceland Adventure Sweepstakes
Denise H. - Claremont, CA
HGTV Ultimate House Hunt Giveaway
Cathleen L. – Lilly, PA
Stearns & Foster Ultimate Bedroom Sweepstakes
Alicia G. – Jacksonville, FL
Sonja D. – Conway, SC
Shawn C. – Fort Myers, FL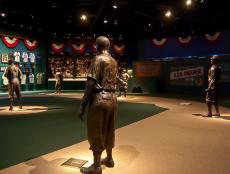 Resident fans are passionate about their NFL, MLB, minor league, collegiate and youth teams, as well as NASCAR events.