Atlanta Real Estate and Rentals
Courtesy of Wikipedia Commons.
Glenwood Park is located on the east side of Atlanta, GA on the BeltLine, a former rail line converted to a trail. It is a mixed-use neighborhood with walkable streets, many residential units and office, retail, and green space.
Look up songs about real estate on Google. John Mellencamp sings of "Little Pink Houses" while the Madness house is in the middle of the street. Roger Miller croons about "trailers for sale or rent; rooms to let, 50 cents." Atlanta houses, real estate and home rentals are a lot like this mixed tape of songs. We've got all price ranges, colors, sizes and locations—and they're on the renter's market.

Of course, a super real estate agent can help you locate the right real estate for rent. Frankly, though, that's not always their top priority as there's very little payoff for them. So, we'll explain the Atlanta rental game to you as best we can.

When it comes to luxury rentals and real estate, Atlanta has available properties popping up like kudzu. Some of them are used in the city's booming movie business for either location sets or for visiting stars. For example, a furnished and private estate with a pool and other lavish amenities can be had for $15,000 a month. We're talking all the bells and whistles in just about any architectural style you like. Of course there are also more modest cribs with the average price coming in at around $5,000 a month. These properties are primarily located in Buckhead, Brookhaven, and Midtown with an occasional rare diamond rental in Ansley Park.

High-rise real estate and condos for rent are found in Buckhead, Midtown and Downtown, with an average price around $2,500 for a two bedroom.

A respectable family home of really nice and solid construction will rent for roughly $2,500. Some of the neighborhoods, such as Glenwood Park, feature new construction, private parks, a neighborhood pool, and retail shopping and dining within walking distance. The adjacent Ormewood Park has great houses with big back yards and a great charter middle school. Expect those to cost around $1,500. Nearby Grant Park is where you'll find the charming historic real estate, and homes there are often available for rent.

Virginia/Highlands and Morningside are where you're going to find smart bungalows for rent with neat lawns and narrow drives.

Atlanta's singletons and hipsters populate the real estate of the Old Fourth Ward, Cabbagetown, Renyoldstown, Little Five Points and Inman Park. There are many reasonable rentals along with some of the city's funkiest and eclectic real estate. There are lots of great bars, restaurants, and unique vintage and antique stores around these hoods as well. It's really a fun place to call home.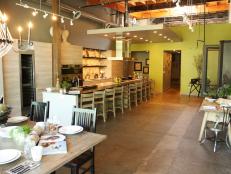 Oh, how we love gorgeous, urban lofts. Atlanta has them—here's how to find them.