Get to know the Willis family with 12 super-talented kids who are accomplished singers, songwriters, dancers and athletes!
Toby is the father of the 12 Willis Clan children and helps them strive for excellence in all they do. Toby is a state champion wrestler from Chicago and a graduate of Northwestern University. Toby worked in the computer field for 10 years as a programmer, analyst, database and system administrator. He now does music and video production. Toby is still involved in wrestling and coaches the boys. He occasionally plays keyboard in the band. He is currently also involved in various writing, architecture and art projects.
Yes, Brenda really is the mother of all 12 children, teaches them at home, and still finds time to do many other things including photography, leather tooling and music. A college graduate and high school valedictorian, Brenda could have worked the typical job, had the typical family and lived a successful life. But she took the path less traveled. She made her children her career and it shows. She sets a high standard for other women to follow and shows how a woman really can have a successful and challenging career and family at once.
The oldest, Jessica is the main singer/songwriter in the family band. She plays piano, violin and sings, and has written over 200 pieces of music. She also has enjoyed exploring various creative outlets including poetry, novels, costume design and other visual arts. Starting off in Irish step dancing, she is now pursuing a wide education in all areas of dance including ballroom, west coast swing and flamenco. Jessica has been called one of the last true romantics.
Jeremiah, commonly called Jair for short, is the second oldest of the Willis Clan children. He plays acoustic, nylon and electric guitars; cello, uilleann pipes, whistles, flute, mandolin, banjo, and piano. Jair is a three-time champion in west coast swing and a three-time place winner in the World Championships of Irish dance. He also is a Tennessee state champion in both Freestyle and Greco-Roman wrestling.
Jenny is third oldest and loves music and dance. She plays the Irish button accordion, fiddle, piano and guitar. She is a three-time regional champion in Irish dance and a three-time national champion in west coast swing. She also is currently studying ballroom dance. Although Jenny loves the creative arts, she is a genuine country girl. One of Jenny's favorite things to do is ride horses. She also plays with the dogs, runs around barefoot outdoors, and picks up any toad, lizard or other animal she can find.
Jeanette goes by the nickname Jet. She is the fourth oldest of the Willis children and plays whistles, fiddle, piano and dobro. Like her sisters, she is a dancer who can do Irish, ballroom, west coast swing, and flamenco dance. What a lot of people do not realize as they watch Jet dance is that she was paralyzed in one arm at birth. She has regained limited movement in her damaged arm but yet still is able to dance and play music so that most people do not even notice.
Jackson is the fifth child and is the drummer and banjo player in the family band. He plays guitar, piano and whistle and is currently learning violin and cello. Jack also dances Irish, ballroom, and swing. He is a youth national champion in west coast swing. In addition to dance and music, Jack also is a tough wrestler. He has won state championships in both Freestyle and Greco-Roman wrestling.
Jedi is the sixth child in the Willis Clan. Having all those older brothers and sisters must have toughened him up because Jedi has won seven state championship titles in Greco-Roman, freestyle and folk style wrestling. Jedi also dances Irish, swing, and ballroom and plays bass, whistle, guitar and piano. In the family band he plays not only electric bass, but also upright bass - no small feat seeing the upright bass is twice his height.
Jasmine, who goes by the nickname Jazz Kat, is just starting to play music with the older kids. She is learning piano, guitar, whistle and violin. Even at 11 years old, Jazz was already an accomplished dancer, having won the youth national championships in west coast swing. Jazz also dances Irish, flamenco, ballet, and ballroom. She likes to draw and do crafts; makes her own jewelry and is learning to sew.
Julie is the eighth child and like her older sisters, is learning music and dance. In our house music, dance, and all the arts are not optional. It is our belief that maximizing form has a mysterious way of maximizing function too. Julie is currently studying ballroom, Latin, Irish, and swing dancing. She is Jedi's dance partner. That is what sisters are for. She also has started working out with the big kids which means, among other things, she has to run over a mile each day and lift weights. However, she is not Jedi's wrestling partner - that is what brothers are for.
Jamie is the ninth Willis child and is getting ready for the spotlight. She takes after her big sister Jessica, writing stories and music. She is starting to read and is learning to dance Irish, swing, and ballroom. She also is learning Latin dancing and can do a great samba. So watch out everybody -- she is our Shirley Temple of the family!
Joy Anna is the tenth child in the Willis Clan. She hopes to be just like her big sisters someday. It is still too early to see what gifts she has, but already she is watching and learning.
Jaeger, which means "Hunter," is the fourth boy in the Willis Clan. But don't let size fool you. Jaeger is already practicing his wrestling and dance moves and plays a mean air guitar. We can tell he is going to uphold the high standards set by his older brothers. His favorite thing to do is dress up like his favorite characters - you never know when you will see a miniature cowboy, knight, Jedi or Zorro running through the house or yard brandishing a gun or sword.
Jada is the youngest member of the Willis Clan. She was born October 27, 2010. She is quite the talker and makes a great partner for Jaeger. She dresses up to complement his characters and is delighted to play the girl part. She has earned the nickname "Dancer" in our family because every time the big kids play on stage, she gets up to dance. Her debut was at Disney World - no stage fright for this little lady.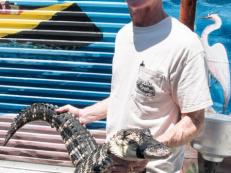 Wrestling alligators is a family business in the TV series Growing Up Gator .