We're giving away awesome prizes all of the time. Enter for your chance to win trips, cash, and stunning vacation homes!
More HGTV Dream Home
Exterior Tour From HGTV Dream Home 2018
Find out how this waterfront home takes advantage of its picturesque views.
Travel Channel's The Trip 2018 Sweepstakes
Now through March 30, 2018 at 5 p.m. ET, enter twice daily for your chance to win a 20-day dream vacation with luxury lodging throughout St. Lucia and Antigua, a grand-prize package valued at $100,000.
HGTV Dream Home Giveaway 2018
We're sorry, this sweepstakes is now over! Thanks to all that entered for a chance to win HGTV® Dream Home 2018, a modern coastal retreat located in Gig Harbor, WA, plus a $250K cash prize provided by national mortgage lender Quicken Loans®.
Live for Ta-Da! Sweepstakes Presented by Sherwin Williams
Brenda S. - Salem, OR
Amy A. - Colorado Springs, CO
Tim V. - Scottsburg, VA
Sara J. - Webb City, MO
Kelly S. - Knoxville, TN
Sherri L. - Mims, FL
Elizabeth H. - Asheville, NC
Travel Channel's Ultimate Seattle Trip Sweepstakes
Donna M. - Arnold, MO
Dream Away with $20K Sweepstakes
Grand Prize Winner: Karin A. – Mineral Bluff, GA
Travel Channel's Winter Escape Sweepstakes
Michelle H. - Brainerd, MN

Wayfair's Holiday Dreamin' Sweepstakes
Grand Prize Winner: Gerard M. - Newark, DE
Weekly Winners:
Robert M. - Medford, OR
David F. - Worthington, OH
Kaitlin W. - Houston, TX
Charles D. - Santa Maria, CA
HGTV Urban Oasis 2017
Magne J. - Beaverton, OR
GAC's Adventure Sweepstakes
Nicholas A. – Mobile, AL
Your Space Your Way $10K Sweepstakes
Grand Prize Winner: Joyce I. - Miramar, FL
Weekly Winners:
Robyn C. - North Lauderdale, FL
Jack Y. - Mercersburg, PA
Jerry H. - Jefferson, GA
Lawrence M. - Rathdrum, ID
Theresa B. - Alpha, NJ
Anne K. - Meadville, PA
Marisol D. - Ann Arbor, MI
Marie M. - Hanover Township, PA
Travel Channel Palm Springs Giveaway
R. Polhill - Cortlandt Manor, NY
Israeli Adventure Sweepstakes
D. Swanson - Castro Valley, CA
Chopped at Home Challenge Presented by Del Monte
Tiffani S. - Phoenix, AZ
Travel Channel's Gatlinburg Getaway Sweepstakes
Franklin H. - Graham, NC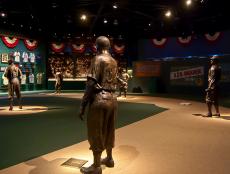 Resident fans are passionate about their NFL, MLB, minor league, collegiate and youth teams, as well as NASCAR events.