14 Wrapping Papers That Add Country Flair to Your Gifts
Presentation is certainly important — despite how quickly gifts tend to get torn open. Add some extra festive flair to your holiday crafting station this year by grabbing a few speciality papers that will really make your gifted goodies standout.
Keep in mind: Price and stock could change after publish date, and we may make money from these links.
If you love a neutral palette, this birch embossed paper is the perfect find for you. Inspired by the bark of trees, this woodsy wrapping will introduce the ideal rustic vibe into your interior. Whether presents are stacked under the tree or gathered alongside the fireplace, this gifting option will create a classic log cabin feel.
Traditions are what help to make the season such a merry time, so be sure to incorporate some classics into your wrapping ideas, too. From picking out sheets of stamps to choosing the cheeriest of cards, the warm sentiments we send out to loved ones is a must every year. The memorable scenes portrayed on this paper will warm even the grinchiest of hearts thanks to its charming details on full display.
Playing around with plaid patterns is a safe bet when it comes to the holidays. While the combination of red and black checks may seem like the obvious choice, we're opting for a different color palette this year. This black and green option still gives off the feeling of a traditional style, but its shiny finish adds a bit more of a contemporary aspect that will help gifts really pop underneath the tree.
Wood rounds embossed with seasonal touches add a charming touch to any wall they're hung on, so it comes as no surprise that this wrapping paper alternative is just as quaint. Inspired by the outdoors, the seasonal scenes showcased in these rings make a rustic choice feel fresh and fun. Extra ribbons and bows? They're not even necessary thanks to the careful details included within this playful print.
While modern elements have their appeal, vintage-inspired additions bring a whimsical style that can't be topped. Letting Santa know what you want is essential, and these sweet drawings remind us why we love Saint Nick as much as we do. With his jolly red cheeks and unmistakable beard, this wrapping paper will leave undeniable feelings of warmth underneath any tree.
You can easily achieve a rustic look even when using a more modern approach. While the pattern itself is minimalist in design, those perfectly portrayed tree branches make this paper one to include in your collection of gift wrapping goods ASAP. While presents will look understated and charming on their own, an added tag or small-scale bow will take this evergreen print to an even more swoon-worthy level.
Candy canes have their place during the holidays — from the tree to the mantel and even mugs of hot cocoa. Plus there are plenty of rustic ways to include their bright red and white hues in your holiday decorations. Skip glossy options and try something like this linen alternative for an unexpected twist on the child-friendly classic. When paired with both neutral and bright red extras, presents exchanged in this paper will definitely impress.
Simply hearing the first Christmas song of the year is enough to kick the season into high gear. Wrap your presents up in a paper that will put a new twist on some classic favorites. These musical sheets are adorned with warm wishes scrawled across them that will bring a smile to everyone's face. The happiest of holidays will be had with the help of some thoughtfully arranged goodies.
Rather than hanging mistletoe, switch things up by working these flirty favorites into your wrapping this time around. Red and green hues come together in an understated way that will create a whimsical appearance in any pile of presents this packaging is set amongst. From the smallest of treats to the biggest of boxes, this paper will bring old timey feels in the most festive of ways.
Looking for an alternative to expected prints that will still achieve that same traditionally festive feel? These lifelike drawings of different sized homes create an eye-catching paper that makes being home for Christmas more appealing than ever. With the pops of forest green throughout, this wrapping paper is strong on wintry spirits without being too overwhelming. Finish it off with a plaid bow for an unexpected presentation that will certainly wow.
Can't remember all of the words? Let this twelve days of Christmas wrap be a helpful reminder. All of the catchy lyrics are right where you can see them so everyone will be able to sing along. A playful illustration also accompanies each day to make this paper a true must-have.
If you want to stick to classic patterns, it's easy to choose an iconic shape with some added flair. With the red backdrop, these oversized stars and pinecones become the perfect addition to this bright and cheery wrapping option. One thing's for sure — these sparkly stylings will bring festive vibes without going over the top with bows and ribbons.
No matter what window you're peeking out of this season, wishes of a snowy scene go hand in hand with the holidays. Incorporate a wintry feel into your gift wrapping scheme by skipping traditional patterns and using a choice that sports a snowy white option instead. The collection of small-scale scenes splashed across this icy paper depicts fun-filled activities that will delight every recipient.
Family and friends of all ages will certainly love this woodsy find. The collection of woodland critters scattered across this neutral paper will pair perfectly with any other wrapping that shows up under the tree this year. With the simple outlines and neutral color palette, this option will make for a sophisticated setup.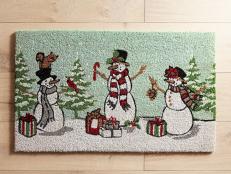 With friends and family coming and going a lot during these busy holiday-filled months, a fun doormat will do wonders for every entryway. This season, skip the standard options and grab one of these eye-catching alternatives.