Just north of Atlanta are some great mountain cabins for sale or rent.
Although Atlanta is landlocked, some of the country's most beautiful mountain communities are less than two hours from the city—and they have cabins for rent. Whether you're seeking a tiny treehouse for a romantic getaway or a mountain mansion for a family hoedown, there's an Atlanta-area cabin with your name on it.
What we love about the Blue Ridge Mountains (a province of the Appalachian mountains) is the region's eclectic charm. Decidedly unpretentious, the town of Blue Ridge, Ga., has a funky little downtown with a handful of shops and restaurants. The cedar wood A-frame cabins for rent reflect this laidback, come-as-you-are attitude. A lot of the construction went down in the 1970s and 80s, giving the architecture more of a modern mountain vibe. Some cabins are afforded beautiful views of—and access to—Lake Blue Ridge via expansive walls of windows and wraparound porches.
Just slightly east of Blue Ridge is Helen, Ga., which was transformed into an Alpine village in the late '60s. Helen is another great place to rent a mountain cabin. Sitting on the Chattahoochee River, the tiny town looks like a movie set with its ornate woodwork, candy shops and authentic pubs. Rent a miniature chalet/cabin and have some cocoa by the fire. Better yet, head up during Oktoberfest (the town's busiest time of year) and yodel off the balcony.
Farthest from Atlanta, but a great place to score a cabin, is Lake Burton. Located near Unicoi State Park, the "cabins" of Lake Burton can get a bit on the luxurious side. A lot of Atlanta's elite and wealthy keep lake homes/cabins up at Lake Burton. University of Alabama head coach Nick Saban keeps a home there, and he recently auctioned off a vacation property that reportedly sold for $10 million. There are even homes located on a private airstrip on Big Creek Flying Ranch Airport so you can simply jet in and walk to your cabin's front door.
Homes in Big Canoe fall into the luxury cabin category as well, though you can find cheaper rentals in a mini-neighborhood called the Tree Houses—miniature houses on stilts high above the mountain ranges. The entire community is gated with a 24-hour guard to ensure privacy and safety, though bears are another story. Yes, bears.
We also recommend Lake Arrowhead, Ellijay, Blairsville and the stunning Tallulah Gorge—Georgia's "Little Niagara Falls"—if you're looking for a cabin. Of course, all of the aforementioned communities have real estate for sale, not just rentals.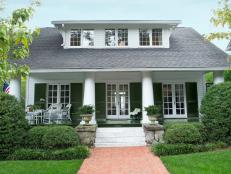 Many of the bungalows built in Atlanta in the 1920s are still standing and are as popular as ever.