Buckhead and Ansley Park are home to the city's largest mansions.
Close your eyes and imagine a young woman in hoop skirt standing on the front porch of a stately Atlanta mansion. What's that she's holding? A tray of mint juleps? Okay, you can wake up now because this is not Scarlett's Atlanta anymore. Sure, there are still some historic antebellum/Victorian-style mansions standing, but there are also gargantuan gothic Tudors, massive Mediterranean structures and monstrous moderns all taking up real estate on Atlanta's soil.
So, where are they? What do they look like? And most importantly, just who lives in these Atlanta mansions? Seeing as how there are several multi-million dollar corporations like Home Depot and CNN/Turner Studios plus the fact that Atlanta has become the de facto hip hop capitol, folks like Arthur Blank, Ted Turner, music producer Dallas Austin and Usher call Atlanta home.
Buckhead is where you'll find the city's most expensive house, a $19,900,000 Mediterranean, which has been on the MLS for over a year—and anyone can see the inside. (It was originally listed for $25 million.) Located on West Paces Ferry Road, the nine-bedroom, 11-full bath manse was the home of Bill Murray in Zombieland and the party house in The Three Stooges. It's pretty hard to remain anonymous in a house that notable; it is reportedly owned by Lee Najjar, the local real estate mogul who was known as "Big Poppa" on the Bravo show "Real Housewives of Atlanta."

Other streets either off or near West Paces Ferry like Blackland, Valley, Broadland, Tuxedo, Northside Drive, Randall Mill and Nancy Creek have mansions priced anywhere from $3 million to $10 million. The architectural styles vary—you'll find everything from a Tudor to a four-door modern. A lot of these mansions sit on large lots—up to 10 acres—and have long, gated driveways and resort-style pools and tennis courts.
The other neighborhood with the largest concentration of mansions in Atlanta is one of our favorites: Ansley Park. Homes in Ansley, which was developed by railroad and real estate magnate Edwin P. Ansley, are a fusion of eclectic and contemporary suburban architecture, including Greek revival-inspired, federal, neoclassical, Colonial, Italian Renaissance, Queen Anne and Tudor constructs.
There are many historically significant mansions in Ansley, like the recently relocated Randolph-Lucas mansion, Rhodes Hall and the home of John Portman. While the mansions are closer together than in Buckhead, Ansley is pocketed throughout with shaded parks, almost on every street. So, instead of another mansion in their sight, many Ansley residents see treetops.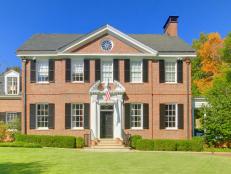 From midcentury moderns to massive McMansions, Atlanta has a home style for all.