Top 4 Reasons to Shop Handmade
Rediscover the best reasons to decorate your home with handmade items.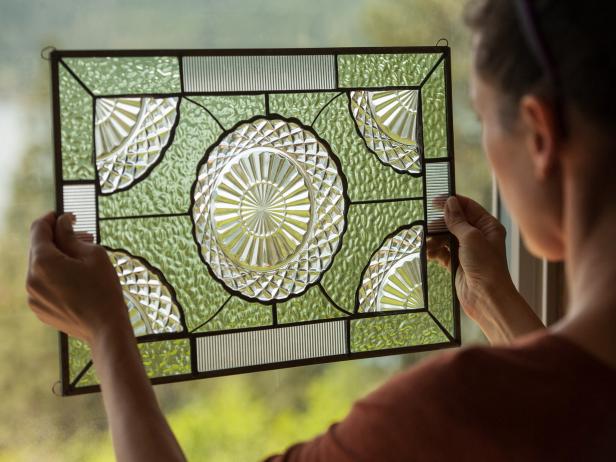 Handmade Florida: Stained Glass Artwork by Heritage Dishes
Artist Lin Glore loves working with vintage and collectable items. Depression glass, dinnerware and teacups all make her pulse race. Her stained glass panels are a reminder of the gentility that is our history. Most of the glassware she uses is vintage or depression era and she incorporates clients' family heirlooms into custom designs. The things that grandmother treasured are displayed in a new light for all to appreciate again. Lin's custom stained glass panel, made from 1940's Waterford Waffle dishes, is featured in DIY Network's Blog Cabin 2015.
As the saying goes, "It takes a village," and DIY Network's Blog Cabin 2015 in Coeur d'Alene, Idaho was no exception. I was thrilled to be a part of the many designers, contractors, painters and artists who were tasked with making this mountain retreat feel like a home. Together with Project Manager Dylan Eastman, I needed to fill this giant modern retreat with cohesive, beautiful and useful design items.

Bringing décor and art into this blank space was exciting, but I really wanted it to feel like a home, so the audience could picture themselves living there. I knew I was going to have to find some special artists and craftsmen to help me. And so, 50 States of Handmade was born. I selected one talented person or small business from each state, and each of these generous and inspiring artists sent in one item to include in this year's Blog Cabin. The result? A very unique collection of handmade pieces of art.

So why do I lean towards handmade items when I'm decorating a space? I'll tell you.

When you buy handmade items, people have the ability to make things specifically for you … or in this case, for Blog Cabin. From the perfectly situated corner shelf made in Las Vegas by Ironclad Vintage Industrial to the sweet, custom-hued 5-foot heirloom rug made in Virginia by Terribly Crafty – I was able to request custom colors, sizes and types of materials for many of the pieces included in the house. If you're looking for something in a particular size or color, consider commissioning a work from a craftsperson. You're sure to get something that works for you and your home, without spending hours hunting online and in stores.

2. Personal Customer Service
The word "handmade" indicates that there is at least one set of hands behind the product. Human hands … as in – you'll get to interact with a real person when you're ordering your item. I, for one, love dealing directly with the people who create stuff for my home. Not only does it make for better business dealings, it's also so interesting to know the story behind each piece. For example, Robert and Anita Shane (a.k.a. the Alaska Rug Company) made the gorgeous mat in Blog Cabin's master bath. They started their business on the remote Alaskan island they call home — after they'd both given up smoking! They needed something to occupy their hands and minds and found solace in weaving rope. Today, they're healthier and their amazing hand-woven pieces are absolute showstoppers.

I don't know about you, but I get a little bummed out when people tell me, "Hey, I have that sweater!" or "That art is from [insert Big Box Store], right? I saw it on sale." Sure, in a way it's flattering, but I'd like my style to be my own. When you shop handmade items, you can be sure they're unique. Handcrafted pieces have more character than mass-produced items, just by their very nature. So when you're looking for distinctive décor, find a talented craftsperson and show the world your exceptional style.

4. Support Small Businesses
There are currently more than 28 million small businesses within the United States. These people pour their hearts and souls into creating goods and services to better their communities. Yes, sometimes a handmade piece might cost a bit more or take a little longer to arrive, but when you spend money with a small business, you can feel good about your purchase. I am so inspired by the 50 artists and craftspeople who have contributed to this year's Blog Cabin. They're hardworking, gifted individuals working day in and day out to make their dreams come true. When you're going to spend money you worked hard for, why not give it to someone who values hard work themselves?

So, you don't have to know how to weld, sculpt, knit or carve in order to appreciate any of these crafts. Consider curating your own handmade collection in your home. I promise you'll appreciate the talents and time used to make your masterpieces.