The Farm Kings' mom, Lisa, shares easy recipes for making farm-to-table favorites like this fresh blueberry (or peach!) cobbler.
Cook time: 35-45 minutes | Yield: 10-12 servings
3 cups fresh fruit (Lisa uses peaches or blueberries)
3 tablespoons flour
1 teaspoon package tapioca pudding mix
1 teaspoon lemon juice
1 cup flour
1/2 teaspoon salt
1 cup sugar
1 teaspoon baking powder
1/2 cup vegetable oil
1 egg
Preheat oven to 350 degrees.
Combine ingredients in each bowl. Combine Bowl #3 (vegetable oil and egg) with Bowl #2 (flour, salt, sugar and baking powder). Place the Bowl #1 mixture (fruit, flour, pudding mix and lemon juice) in an ungreased 9 x 13 baking dish. Spread remaining ingredients from Bowls #2 and #3 on top.
Bake for 35 - 45 minutes until golden brown.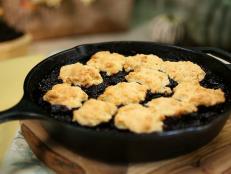 Country music group Little Big Town's Kimberly Schlapman shares her recipe for cobbler that uses five cups of blackberries.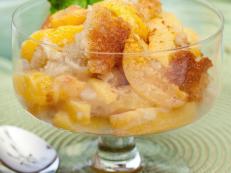 The boiling buttery goodness of the Revival Peach Cobbler is the ninth inning closing pitcher to a perfect meal. One of the cornerstone desserts of the soul food kitchen, with layers that form a Southern summer sunset.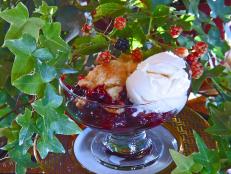 Eddie Montgomery of Montgomery Gentry can almost taste his Grandma's Blackberry Cobbler. His favorite dessert often came with the labor of picking his own berries, and chiggers!