Baked Oysters With Creamed Collard Greens
Country music group Little Big Town's Kimberly Schlapman shares her recipe for a creamy mixture of chopped oysters baked with collard greens.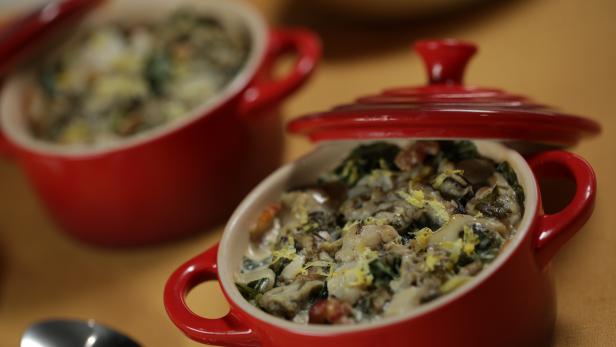 After Kimberly visits Hama Hama Oyster Farm in Washington State to learn about these tasty water critters, she heads back to her own kitchen to serve oysters and clams three ways. Special guest Ashton Shepherd joins her in the kitchen, as seen on Season 2 of Great American Country's Kimberly's Simply Southern.
Cook time: 25-30 minutes | Yield: 4 servings (8 ounce ramekins)
4 strips smoked bacon, lardons
2 tablespoons unsalted butter
1 cup leeks, thinly sliced
7 cups collard greens, washed and cut into small pieces
1 1/2 cup heavy cream
1 tablespoon plus 1 teaspoon hot sauce (Cholula hot sauce)
Salt
Pepper
Zest and juice of lemon
15 oysters, rough chop
In sauté pan cook the bacon until just crispy. Add the butter and let it melt then add the leeks and cook for about 5 minutes until they soften. Add the collard greens and stir. Once they have wilted, add the heavy cream and hot sauce and stir. Season with salt and pepper. Cover and let it simmer for about 10-15 minutes. Spoon the mixture into four 8-ounce ramekins and top each one with five oysters worth of meat. Cover with lids and place in the oven for 5 minutes until the oysters are warmed through. Remove from the oven and finish with lemon zest and juice on top of each one.