Blue Ridge Mountain Cornbread
From the Zac Brown & Friends Southern Ground Cookbook.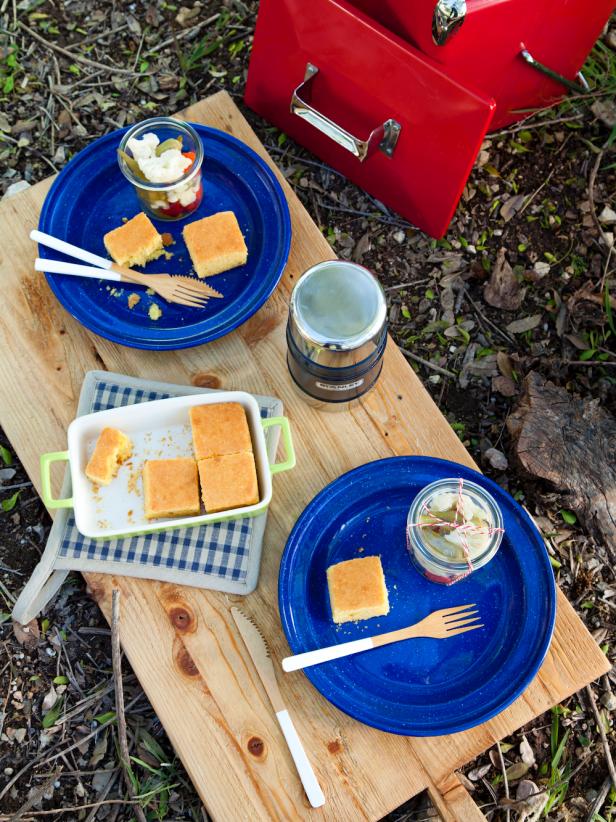 CI-Kimberly-Davis_Camping-Date-blue-plates-cornbread_v
Removable index cards contain 27 of the most coveted recipes by Zac Brown and his friends - from Southern Fried Chicken and Hearty Brunswick Stew to Farmer's Fried Green Tomatoes and Revival Peach Cobbler. As well are dozens of poems, songs, and stories - both fact and lore - accompanied by images of art, nature, travel and life that illustrate how to make it all happen. Order online »
Cook Time: 45 min | Serves: 6
2 ¼ cups cornmeal

2/3 cup flour

1 ½ tbsp baking powder

¾ tsp baking soda

½ tsp salt

1 dash black pepper

1 2/ cups buttermilk

2 to 3 tbsp bacon drippings
1. Preheat oven to 400 degrees.
2. Prepare the skillet by pouring in the bacon drippings then place the skillet in the preheated oven.
3. In a medium size bowl, combine all the dry ingredients and mix well.
4. Add three-fourths of the buttermilk and stir.
5. Remove skillet from oven and slowly add about 1 tbsp of bacon grease from the skillet into the batter, stirring well. Add remainder of buttermilk while stirring.

6. Lightly sprinkle the skillet bottom with dry cornmeal and pour in the batter. Bake approximately 40 minutes. Watch the cornbread after about 20 minutes and cook until the top is golden brown.