From the Zac Brown & Friends Southern Ground Cookbook.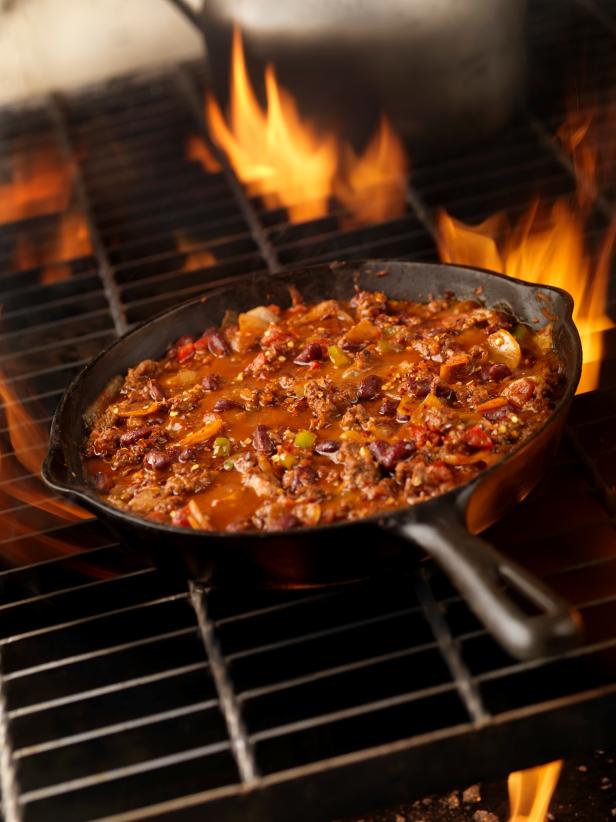 Removable index cards contain 27 of the most coveted recipes by Zac Brown and his friends - from Southern Fried Chicken and Hearty Brunswick Stew to Farmer's Fried Green Tomatoes and Revival Peach Cobbler. As well are dozens of poems, songs, and stories - both fact and lore - accompanied by images of art, nature, travel and life that illustrate how to make it all happen. Order online »
istockphoto.com/Lauri Patterson
Cook Time: 2 hours | Yield: 8 Servings
1 cup diced white onion
1 pound beef tenderloin tips diced into 1/2 inch cubes
2 pounds ground bison*
1/2 pound ground pork
1 Tbsp. olive oil
1 Tbsp. masa flour
1/2. Tbsp. garlic powder
One 14.5 oz. can beef stock
Two 14.5 cans chicken stock
One 8 oz. can tomatoe sauce
4 ounces mild diced green chilies
1/2 Tbsp. ground cumin
1 fresh jalapeno pepper, chopped fine
1 tsp. black pepper
3 Tbs. chili powder
4 oz. tomato sauce
4 Rbs. chili powder
2 Tbs. mild chili powder
2 Tbs. ground cumin
1 tsp. garlic powder
1 tsp. Tabasco
1/2 tsp. brown sugar
Two 15.5 oz. cans pinto beanss, drained
Two 15.5 oz. can kidney beans, drained
1. Brown together the onion, beef tips, bison, and pork in the olive oil.
2. Drain grease from the meat. Add the next ten ingredients, from the masa flour to the 3 Tbs. of organic chili powder.
Simmer one hour.
3. Add the remaining ingredients from 4 oz. tomato sauce to the kidney beans.

Simmer 45 minutes and eat.
Note: *If bison is unavailable, use ground beef.