Country music group Little Big Town's Kimberly Schlapman shares her recipe for buttermilk biscuits flavored with cheddar cheese and bacon.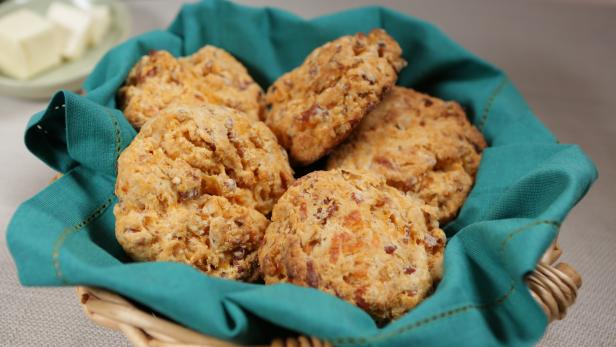 Kimberly visits Benton's Smoky Mountain Country Hams in Madisonville, Tenn., then heads to the kitchen to make a breakfast worth waking up for and she is joined by special guests from Little Big Town, Jimi Westbrook and Phillip Sweet, as seen on Season 2 of Great American Country's Kimberly's Simply Southern.
Cook time: 25-27 minutes | Yield: 6 servings
2 cups flour
1 tablespoon baking powder
1 teaspoon salt
1 teaspoon paprika
1 cup buttermilk
1/2 cup unsalted butter, melted
8 strips thick cut bacon, cooked until crispy and diced
1 cup onion, small dice
1 cup cheddar cheese, shredded
Heat the oven to 425 degrees.
Cook bacon until crispy. Remove from pan and drain on paper-lined tray. Remove all but 1 tablespoon of bacon fat and sauté the onion until cooked and caramelized about 5 minutes. Reserve the rest of the bacon fat to use for brushing the tops of the biscuits for enhanced flavor.
In a large bowl add the flour, baking powder, 1 teaspoon of salt and paprika. Mix to blend then make a well in the center of the bowl and add the milk, butter, bacon, onions and cheese. Mix gently with a wooden spoon. The dough will be wet and sticky. Using a 1/2 cup measure portion the batter onto a baking sheet, leaving an inch or so around each biscuit.
Brush some of the bacon fat on the top of each biscuit. Bake in the oven until the biscuits are golden brown and a toothpick inserted in the center of one comes out clean, 20 to 22 minutes.