Clams in Butter Wine Sauce With Herbs
Country music group Little Big Town's Kimberly Schlapman shares her recipe for steamed clams in a white wine and garlic sauce.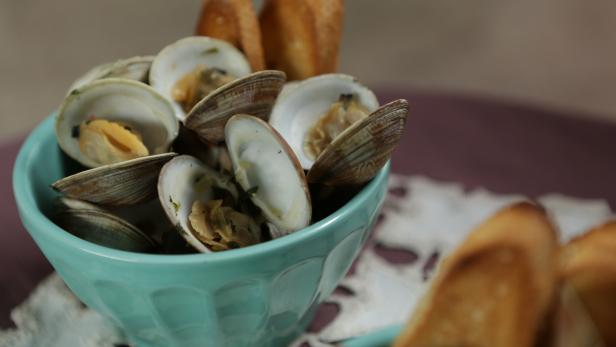 After Kimberly visits Hama Hama Oyster Farm in Washington State to learn about these tasty water critters, she heads back to her own kitchen to serve oysters and clams three ways. Special guest Ashton Shepherd joins her in the kitchen, as seen on Season 2 of Great American Country's Kimberly's Simply Southern.
Cook time: 12-15 minutes | Yield: 4 servings
4 tablespoons unsalted butter
3 tablespoons shallots, minced
3 tablespoons garlic, minced
1 teaspoon red crushed pepper
1 cup dry white wine
3 dozen littleneck clams, scrubbed and cleaned
2 tablespoons tarragon
2 tablespoons mint
1 baguette, cut on a bias and toasted
Clean and scrub the clams. Keep over ice. In the meantime add butter to a Dutch oven on medium heat. Once butter has melted add the shallots and cook for about 2 minutes then add the garlic and red crushed pepper. Cook until the garlic becomes fragrant. Add the wine and let it cook off for about 2 minutes. Add the cleaned clams and cover with a lid. Let it cook and steam for about 5 minutes until all the clams have opened. Discard any clams that have not opened. Add the tarragon and mint. Stir to mix in the herbs. Serve with toasted bread on the side.