Ham, Apple-Butter and Cheddar Biscuit Sandwich
Country music group Little Big Town's Kimberly Schlapman shares her recipe for sweet slices of grilled ham atop cheddar biscuits smeared with apple butter.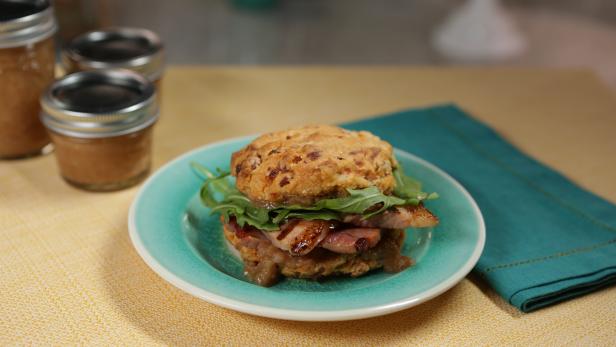 Kimberly visits Benton's Smoky Mountain Country Hams in Madisonville, Tenn., then heads to the kitchen to make a breakfast worth waking up for and she is joined by special guests from Little Big Town, Jimi Westbrook and Phillip Sweet, as seen on Season 2 of Great American Country's Kimberly's Simply Southern.
Cook time: 1-2 minutes | Yield: 6 servings
3 tablespoons butter
3 tablespoons lite brown sugar
3 tablespoons maple sryup
6 slices of country cooked ham, grilled and sliced in half
Apple butter for spreading
6 cheddar bacon biscuits, sliced in half
10 ounces arugula
In a small pot combine and melt the butter, lite brown sugar and maple syrup. Heat until the sugar dissolves. Brush on ham and grill slices until charred about 1-2 minutes per side. Baste the ham with more maple syrup mixture. Spread apple butter on the halved biscuits and top with grilled ham and arugula. Top with other half of biscuit to make a sandwich. Serve with more apple butter on the side.