Ham Hash Browns and Baked Eggs
Country music group Little Big Town's Kimberly Schlapman shares her recipe for eggs baked with country ham, red peppers and shredded potatoes.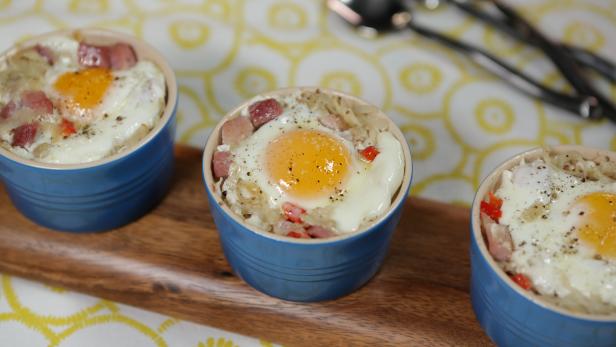 Kimberly visits Benton's Smoky Mountain Country Hams in Madisonville, Tenn., then heads to the kitchen to make a breakfast worth waking up for and she is joined by special guests from Little Big Town, Jimi Westbrook and Phillip Sweet, as seen on Season 2 of Great American Country's Kimberly's Simply Southern.
Cook time: 26 minutes | Yield: 4 servings
2 tablespoons butter
1 tablespoon olive oil
1/2 cup onion, small dice
1 potato, peeled and shredded (1 pound)
1/2 cup red bell pepper, small dice
16 ounces cooked country ham, medium dice
Salt
Pepper
4 large eggs
Preheat oven to 375 degrees.
In a heated sauté pan melt the butter and add the olive oil. Add the onions and cook for 1 minute until translucent. Add the shredded potatoes and cook for 3 minutes. Add the red peppers and cook for 2 minutes. Add the ham and season with salt and pepper. Divide the mixture into 4 7-ounce ramekins. Crack an egg into each ramekin on top of the hash mixture and place in the oven for 20 minutes until eggs are cooked through but still runny. Season with salt and pepper.