Oysters With Peach Mignonette
Country music group Little Big Town's Kimberly Schlapman shares her recipe for raw oysters mixed with peaches, shallots and chives.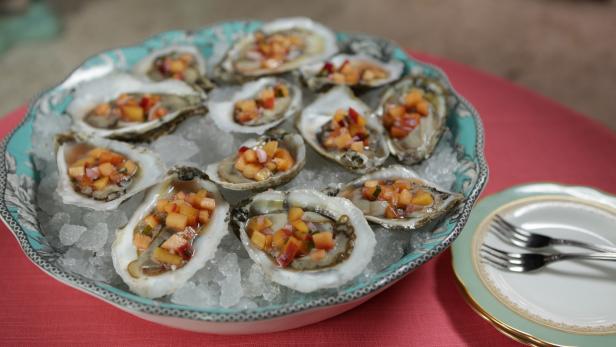 After Kimberly visits Hama Hama Oyster Farm in Washington State to learn about these tasty water critters, she heads back to her own kitchen to serve oysters and clams three ways. Special guest Ashton Shepherd joins her in the kitchen, as seen on Season 2 of Great American Country's Kimberly's Simply Southern.
24 oysters, scrubbed, cleaned, shucked and loosened on half shell
1 cup fresh peach, small dice
1 tablespoon shallots, minced
1/2 cup Champagne vinegar
1 teaspoon chives, finely chopped
1/4 teaspoon pepper
Mix all the ingredients together. Serve in oyster shells on ice.