Rory, of country duo Joey + Rory, shares a story and recipe about his favorite holiday treat. Every Christmas, Rory's aunt makes these raisin tarts. The overall-wearing artist admits he much prefers these tarts over his mother's divinity candy — no offense, Mom!
Cook Time: 25 mins | Serves: Varies
2 pie crusts, unbaked, cut in circles to fit in muffin pans. Spray muffin pans thoroughly to prevent sticking. Form crust in muffin pans using fingers and crimp the edges with a fork or fingers.
1/2 cup butter
1 cup brown sugar
5 T. milk
1 egg
1 cup raisins
In a medium saucepan, bring to a hard boil the butter, brown sugar and milk, stirring constantly to prevent sticking or scorching. Remove from heat. Beat the egg in a small bowl and add a small amount of the hot mixture to the egg and mix well. Slowly add the egg mixture in with the remaining heated mixture, stirring well. Add the raisins and spoon batter into muffin pan. Bake at 375 for 25 minutes.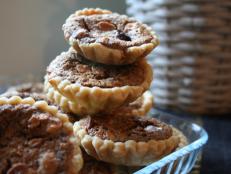 Terri has fond memories of her mother making butter tarts that didn't skimp on the butter. "Butter is a food group," says Terri, "and I love it."