Kip Moore's Red Velvet Cake
Kip has a sweet tooth & his grandmother's Red Velvet Cake always satisfies!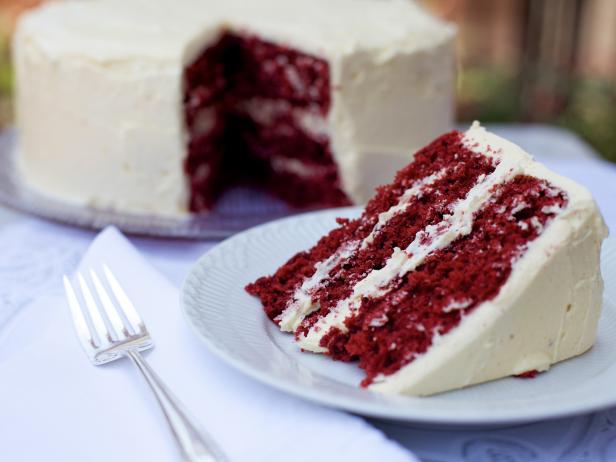 Red Velvet Cake
Add some color to your dessert table with rich velvet cake. Perfect for any occassion, this recipe will please even the pickiest guests. Get the recipe.
Cook Time: 40 min | Yield: 8-10 servings
12 tablespoons (1 1/2 sticks) unsalted butter, softened, plus more for the pans
3 cups cake flour (sift before measuring)
3 tablespoons unsweetened Dutch-process cocoa powder
1 teaspoon baking soda
1/2 teaspoon salt
1 3/4 cups granulated sugar
1/3 cup vegetable oil
3 large eggs, at room temperature
1 tablespoon red food coloring
2 teaspoons apple cider vinegar
1 teaspoon vanilla extract
1 cup buttermilk
4 8-ounce packages cream cheese, softened
2 sticks unsalted butter, softened
2 lbs (about 8 cups) confectioners' sugar
1 tablespoon fresh lemon juice
1/2 teaspoon vanilla extract
1/8 teaspoon salt
Make the cake: Preheat the oven to 350 degrees F. Butter two 9-inch-round cake pans and line the bottoms with parchment paper; butter the parchment. Whisk the flour, cocoa powder, baking soda and salt in a bowl.
Beat the granulated sugar, 12 tablespoons butter and the vegetable oil in a stand mixer fitted with the paddle attachment on medium-high speed until fluffy, about 4 minutes. Beat in the eggs one at a time. Beat in the food coloring, vinegar and vanilla. Reduce the mixer speed to low; add the flour mixture in 3 batches, alternating with the buttermilk, beginning and ending with the flour, until just combined.
Divide the batter between the prepared pans. Bake until a toothpick inserted into the center comes out clean, 35 to 40 minutes. Let cool 10 minutes on racks, then turn the cakes out onto the racks to cool completely. Using a long serrated knife, carefully slice each cake in half horizontally to make 2 even layers.
Make the frosting: Beat the cream cheese and butter in a stand mixer with the paddle attachment on medium-high speed until fluffy. Add the confectioners' sugar, lemon juice, vanilla and salt; beat until smooth.
Put 1 cake layer on a platter; spread 1 1/4 cups frosting on top. Repeat to make 4 layers, ending with the cake. Cover the top and sides with a thin layer of frosting (this is the "crumb coat"; it doesn't have to be perfect). Chill 15 minutes, then cover with the remaining frosting.