Maggie Rose's Stained Glass Cookies
Maggie Rose's favorite cookie (courtesy of her Aunt Margaret's mother-in-law, pastry chef Nancy Baggett) uses crushed lollipops to create a stained-glass effect.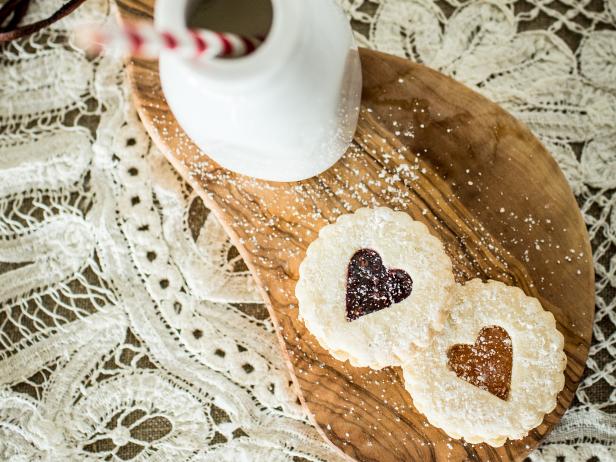 Jam-Filled Linzer Cookies
Raspberry and apricot jam are sandwiched between two buttery crusts with a small cutout on top to create this classic holiday dessert. Get the recipe.
Cook time: 7-11 mins | Yield: 25-35 cookies
1 recipe of Big Batch Gingerbread Dough or All-Purpose Sugar Cookie Dough
1 12-to-16 ounce bag of assorted lollipops (thin, disk-shaped ones are the easiest to crush) or other clear, hard, brightly-colored candy
Make the dough, roll out and chill. Prepare the unwrapped lollipops or candy by placing each color in a separate plastic bag (or a double layer of regular plastic bags). Tightly close the bags. Using a kitchen mallet or the back of a large, metal spoon, pound until crushed moderately fine. Remove and discard the lollipop sticks, if using lollipops.
Preheat the oven to 350 degrees. Line several baking sheets with aluminum foil. (Note: Don't omit the aluminum foil; it's essential for this recipe.) Coat the foil with nonstick spray.
Using 2 ½-to-3-inch cutters, cut out the cookies. Using a spatula, carefully transfer the cookie to the baking sheets, spacing 2 ½ inches apart. To make simple light catchers, cut away a "window" from each cookie using a slightly smaller cutter of the same or a complementary shape. Choose one that leaves at least a ¼-inch margin of dough all around. For a stained glass window look, cut away several different smaller areas using a thimble, the larger end of a pastry tip, or mini cutters. The cutaways should form an attractive pattern, just as cathedral window panes do. Add hanging holes, if desired.
Bake the cookies, one sheet at a time, in the center of the oven for 7 to 11 minutes, or until just barely tinged with brown at the edges. Be careful not to over-bake. Transfer the sheet to a wire rack and let stand until the cookies are cool enough to handle.
Using small spoons or your fingertips, add enough crushed candy to fill the cutaways. Each cutaway can be filled with a different color, or you can experiment, using complimentary colors in different areas of the same cutaway for a rainbow or multi-colored pane effect. Using a small pastry brush or a clean artists' brush, brush off any stray bits of candy from the dough. Return the cookies to the oven and bake just until the candy melts and looks glass-like – 2 to 5 minutes, depending on the brand of candy used and the amount you've used.
Transfer the sheets to wire racks. Let stand without moving the cookies until the "glass" cools down and hardens, 7 to 10 minutes. Don't touch the cookies during cooling, as the "glass" is extremely hot. When the cookies are cooled to barely warm, carefully peel them from the foil. Let stand on wire racks until completely cooled.
Recipe courtesy of Margaret's family friend, author Nancy Baggett, from "The All American Cookie Book."