White Chicken and Herb Pizza
Country music group Little Big Town's Kimberly Schlapman shares her recipe for pizza topped with chunks of chicken breast, cherry tomatoes, mozzarella and fontina cheese.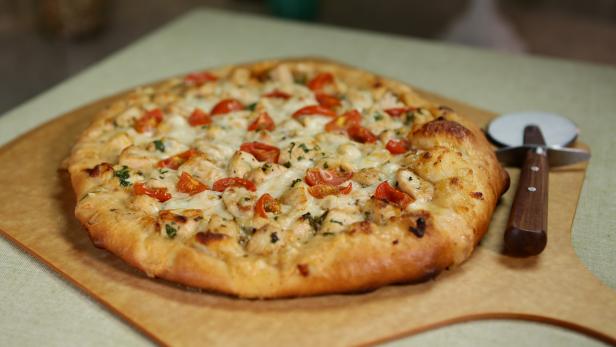 Kimberly Schlapman gets her chance at learning the fun and fine art of pizza making and ping pong playin' at Comet Ping Pong Pizza. Back in her kitchen, and with the help of supermodel Niki Taylor, Kimberly takes a cue from Comet and makes a menu that's sure to please everyone in the family, as seen on season 2 of Great American Country's Kimberly's Simply Southern.
Cook time: See directions | Yield: 1 12-inch pizza
1 cup whole milk
3 garlic cloves, minced
2 tablespoons unsalted butter
2 tablespoons all-purpose flour
1/4 teaspoon cayenne pepper
1/4 teaspoon salt
1/4 teaspoon pepper
1/2 cup fontina cheese, cubed
2 tablespoons olive oil
2 chicken breast, cut unto small pieces
1 teaspoon basil, chopped
1 teaspoon oregano, chopped
1 teaspoon chives, chopped
1 teaspoon parsley, chopped
1/2 cup cherry tomatoes, quartered
3/4 cup mozzarella, shredded
Yellow cornmeal for sprinkling
Place a pizza stone in the oven and preheat to 500 degrees.
Gently heat milk in a small saucepan, just until barely simmering. Add the garlic to infuse the milk.
In a separate saucepan, melt butter. When foam subsides, add flour and stir until smooth. Cook for 1 to 2 minutes, stirring. Do not allow flour to color. Gradually add the warm milk, whisking to combine. Add the salt and cayenne and increase the heat to medium. Cook the mixture, whisking continuously, until the sauce comes to a boil and is thickened. Lower the heat and add the fontina cheese and whisk to melt the cheese. Transfer to a small bowl and cool slightly, placing a piece of plastic wrap directly on the surface.
In a saute pan add 2 tablespoons olive oil. Add chicken pieces and cook for about 5 minutes. Season with salt and pepper. Add all herbs and stir. Remove from heat.
Sprinkle some of the yellow cornmeal on a baker's peel. Place the rolled out pizza dough circle on the prepared baker's peel or baking sheet.
Spread white sauce on the bottom of the dough leaving about 1 inch of crust on the edges. Top with chicken and herbs, tomatoes and shredded mozzarella. Transfer pizza onto the pizza stone. Place in the oven and bake until golden brown and crispy about 7-10 minutes. Remove from oven cut into 8 slices.