Dolly Parton's My People Fund: How You Can Help
The telethon might be over, but Dolly and the people who call the Great Smoky Mountains home still need your help.
When disaster strikes, everyone looks for a hometown hero to help. In the case of the recent wildfires that devastated east Tennessee, and particularly Great Smoky Mountains National Park and its gateway towns, Gatlinburg and Pigeon Forge, that hometown hero's name is Dolly Parton.
"My home in the Smoky Mountains of Tennessee is some place special," Parton said. "Wildfires have affected many of the people—my people—who live in those beautiful mountains."
You may know that the Smoky Mountains are the birthplace of country music and of Dolly, the genre's sweetheart, but you might be surprised to learn that these mountains are also the home of Great American Country, which is headquartered in nearby Knoxville, Tennessee. That's why this disaster hits so close to our hearts and, literally, to our homes.
Our Stars Show Their Support
And that's also why we're proud to support the Dollywood Foundation's My People Fund, a fund that donates $1000 a month for up to six months to area residents who lost their homes in the wildfires.
On Tuesday, December 13th, Great American Country aired Smoky Mountains Rise: A Benefit for the My People Fund — a three-hour telethon that raised millions of dollars to aid East Tennessee families in need. Many stars, including Paula Deen, Alison Krauss, Chris Stapleton, Taylor Swift, Katy Perry and many more, donated their time and/or money to this worthy cause.
But the need didn't stop there. The Dollywood Foundation is still accepting donations for the My People Fund, with 100% of proceeds going directly to those working to rebuild their lives and homes in the Smokies.
To learn more about the My People Fund or make a tax-deductible contribution, visit dollywoodfoundation.org. For those wishing to send donations via mail, those contributions should be sent to: My People Fund, c/o Dollywood Foundation, 111 Dollywood Lane, Pigeon Forge, TN 37863.
You can also help the Dollywood Foundation share the word about this effort by using the hashtags #MyPeopleFund and #someplacespecial.
Missed the telethon? Watch Dolly and special guests Alison Krauss, Chris Stapleton, Reba McEntire, Kenny Rogers and many more here.
GAC Celebrates the Smokies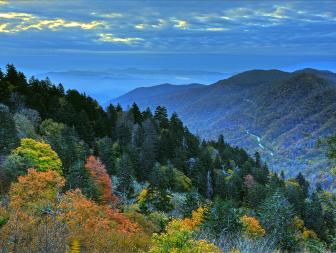 The staff at Great American Country shares their love of the national park and surrounding areas in pictures and memories.