Top Country Wedding Songs
We've gathered some of our top picks for country songs to be used throughout your wedding day.
Your wedding is easily considered the best day of your life. Months and sometimes even years go into the planning of every single detail, from the dress to your colors, the flowers, location and the cake.
One thing rarely overlooked is the selection of music played before, during and after the ceremony. And then there's the highlight of the reception — the first dance as husband and wife. We've gathered some of our top picks for wedding songs to be used throughout the big day.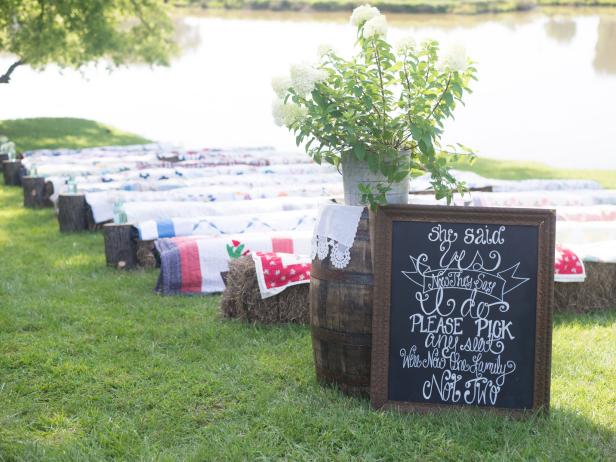 DIY Chalkboard Sign Leading to Quilt Covered Rows of Hay Bail Seating for Outdoor Country Wedding
Quilts pad the hay stacks lined in rows for seating at this outdoor wedding. The mix of blankets creates a cozy feel setting the stage for an inviting, southern style ceremony. A DIY chalkboard sign invites guests to choose a seat and eliminates the need for ushers. The sign is propped against a wood barrel with a white hydrangea flower display for a touch of decor.
"Making Memories of Us" – Keith Urban
"Hey Pretty Girl" – Kip Moore
"When Love Finds You" – Vince Gill
"Love Story" – Taylor Swift
"She Said Yes" – Rhett Akins
"Love, Me" – Collin Raye
"Like Jesus Does" – Eric Church
"She's In Love With the Boy" – Trisha Yearwood
"She Thinks She Needs Me" – Andy Griggs
"History in The Making" – Darius Rucker
"Yes!" – Chad Brock
"Valentine" – Martina McBride
"Walk Through This World With Me" – George Jones or Tammy Wynette
"Your Love Amazes Me" – John Berry
"Me And You" – Kenny Chesney
"Love Me Tender" – Elvis Presley
"Cowboy Take Me Away" – Dixie Chicks
"To Make You Feel My Love" – Garth Brooks or Trisha Yearwood
"Love of My Life" – Sammy Kershaw
"Can't Help Falling in Love With You" – Elvis Presley
"Grow Old With Me" – Mary Chapin Carpenter
Mama's Song" – Carrie Underwood
"Marry Me" – Train and Martina McBride
"Your Everything" – Keith Urban
"When You Say Nothing at All" – Keith Whitley or Alison Krauss
"Better Man" – The Warren Brothers
"Just You And I" – Crystal Gayle and Eddie Rabbitt
"You Make It Look So Easy" – Eric Church
"Keeper of The Stars" – Tracy Byrd
"From This Moment On" – Shania Twain
"You Had Me From Hello" – Kenny Chesney
"I Don't Dance" – Lee Brice
"God Gave Me You" – Blake Shelton
"Come A Little Closer" – Dierks Bentley
"Look At Us" – Vince Gill
"Bless the Broken Road" – Rascal Flatts
"Could I Have This Dance" – Anne Murray
"When I Said I Do" – Clint Black & Lisa Hartman Black
"You Are" – Jimmy Wayne
"Love Your Love the Most" – Eric Church
"Johnny and June" – Heidi Newfield
"Lady" – Kenny Rogers
"I Do (Cherish You)" – Mark Wills
"All My Life" – Kenny Rogers
"I Cross My Heart" – George Strait
"Til I Loved You" – Restless Heart
"Amazed" – Lonestar
"It's Your Love" – Tim McGraw & Faith Hill
"Always Have Always Will" – Blackhawk
"Then" – Brad Paisley
"Lost in This Moment" – Big & Rich
"I Swear" – John Michael Montgomery
"Belongs to You" – Emerson Drive
"Stealing Cinderella" – Chuck Wicks
"My Little Girl" – Tim McGraw
"Daddy Dance With Me" – Krystal Keith
"Just Fishin'" – Trace Adkins
"Let Them Be Little" – Billy Dean
"In My Daughter's Eyes" – Martina McBride
"Daddy's Hands" – Holly Dunn
"Like My Mother Does" – Lauren Alaina
"Don't Blink" – Kenny Chesney
"The Baby" – Blake Shelton
"Simple Man" – Lynard Skynyrd
"I Hope You Dance" – Lee Ann Womack
"My Wish" – Rascal Flatts
"My Mother's Eyes" – Willie Nelson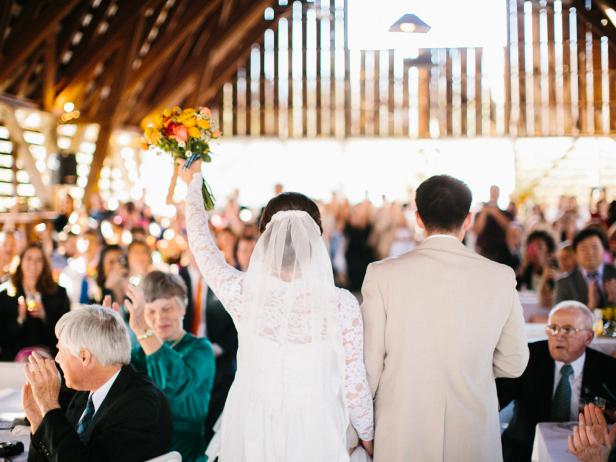 Bride and Groom Enter Wedding Reception in East Tennessee Southern Barn Wedding
With over 200 guests in attendance, Megan and Collin couldn't help but feel the overwhelming love and support from their friends and family on their big day. The exposed beams of the barn's framework created a beautiful setting for the southern inspired ceremony.
"Ours" – Taylor Swift
"Wanted" – Hunter Hayes
"Who I Am With You" – Chris Young
"Look At You" – Big and Rich
"Don't Think I Can't Love You" – Jake Owen
"Til My Last Day" – Justin Moore
"Forever & Ever Amen" – Randy Travis
"It's A Love Thing" – Keith Urban
"Amen Kind of Love" – Daryle Singletary
"True Believers" – Darius Rucker
"I Love You This Big – Scotty McCreary
"Living in a Moment" – Ty Herndon
"You're Still the One" – Shania Twain
"God Gave Me You" – Blake Shelton
"Old Fashioned Love" – Suzy Bogguss & Asleep at the Wheel
"What a Beautiful Day" – Chris Cagle
"I Could Not Ask for More" – Sara Evans
"Must Be Doin' Somethin' Right" – Billy Currington
"Long, Slow Kisses" – Jeff Bates
"How Do I Live" – LeAnn Rimes
"I Always Liked That Best" – Cyndi Thomson
"The Rose" – Conway Twitty
"Love Is Alive" – The Judds
"You Won't Ever Be Lonely" – Andy Griggs
"Love Is A Beautiful Thing" – Phil Vassar