4 Places Where You Can Live by the Beach on a Budget
Coastal cities can be notoriously expensive, but we found four beach towns with surprisingly affordable home prices.
If you've ever dreamed of moving to the beach – where swimming, sunbathing, fishing and boating are mere steps away – you may have also assumed that this lifestyle is financially out of reach. Many coastal towns are quite expensive, but from coast to coast, we've found four places where your dream can become a reality – even on a fairly modest housing budget.

According to Zillow, each of these towns has a median listing price of less than $250,000 for homes currently on the market. To put those prices to the test, we went hunting for houses under $300,000 in each location, looking specifically for homes with easy access to the water. Check out our findings and get inspired to shop for your own budget beach getaway.


Median Price of Homes Currently Listed: $245,000
Often called the "Nation's Oldest City" (it's the longest continually inhabited European-founded city in the United States), St. Augustine is ideal for the beach lover and history buff. Founded in 1565 by Don Pedro Menendez de Aviles of Spain, the city is brimming with fascinating landmarks like Castillo de San Marcos, Ponce de Leon's "Fountain of Youth" and the Oldest Wooden Schoolhouse – plus, 40 miles of beautiful coastline. The median price of homes currently listed in Saint Augustine is $245,000.

Median Price of Homes Currently Listed: $229,900
Located near the Aransas National Wildlife Refuge (which hosts a rare flock of the endangered whooping crane), this laid-back town attracts an eclectic mix of birdwatchers, fishermen and artists. Rockport Beach offers family-friendly amenities like picnic pavilions, playgrounds and volleyball courts, while the downtown district boasts art galleries, seafood restaurants and unique shops.


Median Price of Homes Currently Listed: $179,000
The easternmost town in the continental United States, Lubec offers a peaceful atmosphere and 97 miles of scenic, rugged shoreline. The town prides itself on its lack of shopping malls, fast food restaurants and movie theaters, making it the perfect spot for beach-goers who want to get away from it all. The median price of homes currently listed in Lubec is $179,000, and you may even be able to snag a waterfront property under $200,000.

Median Price of Homes Currently Listed: $157,000
Located at the northern end of the Olympic peninsula (so you can enjoy both bay and ocean views), this Washington town is a hot spot for sports fishing, and it's also become one of the most popular surfing destinations in the Pacific Northwest. The Westport Marina is one of the largest commercial fishing ports on the West Coast, but it also has a large charter fleet available for fishing trips and whale watching adventures.
Locals share the perks and drawbacks of living in five beach-side cities.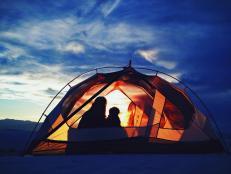 Don't let a tight budget hold you back from traveling. Learn the secrets for finding free places to camp and tips for saving money on the road.