5 Great Neighborhoods in Pittsburgh
Pittsburgh's neighborhoods have a lot to offer. Here, a few of the top areas to explore.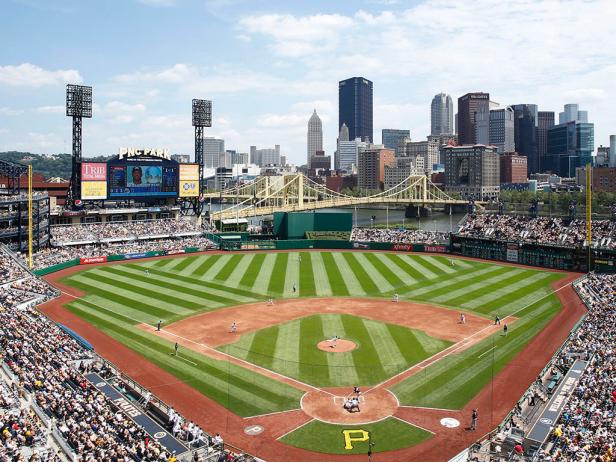 DYCR-MLB_Pittsburgh-PNC-Park-diamond_s4x3
PITTSBURGH, PA - JULY 22: General view of the stadium and downtown skyline from the upper level during the game between the Pittsburgh Pirates and Miami Marlins at PNC Park on July 22, 2012 in Pittsburgh, Pennsylvania. The Pirates won 3-0. (Photo by Joe Robbins/Getty Images)
By:
Heather Pharo

and

Tim Puko
HIGHLAND PARK

In a city replete with history, Highland Park is still a standout. Its mosaic of attractive housing stock, representing Victorian, Edwardian, Tudor and Craftsman styles, earned Highland Park a place on the National Register of Historic Places in 2007. The neighborhood's namesake park features all the amenities you'd expect -- walking trails, playgrounds, tennis and volleyball courts -- plus a public swimming pool, cycling track and a promenade-ringed reservoir.

Nestled within the park is one of the city's top attractions, the Pittsburgh Zoo and PPG Aquarium, currently playing host to a couple of adorable baby elephants and an Amur tiger cub. Proximity to the zoo and park make this quiet and primarily residential neighborhood an ideal spot for families, and Highland Park offers greater racial diversity than many other areas of Pittsburgh. Those who wish to be within walking distance of a bustling business district may want to look elsewhere.


MEXICAN WAR STREETS


Artistically minded home seekers are apt to be impressed by the Mexican War Streets' colorfully repainted rowhouses and its standout attraction, the Mattress Factory. The museum and its adjacent galleries display the best of Pittsburgh's boundary-pushing art scene, including mind-altering whole-room installations. There aren't many businesses within the bounds of Mexican War Streets, but the ones that are there -- like the Monterey Pub and Beleza Community Coffeehouse -- serve as informal meeting grounds for the neighborhood's residents.

Just a short walk away, the rest of the city's North Side offers plenty to do, from sporting events at Heinz Field and PNC Park to excursions at the Andy Warhol Museum, the Children's Museum and the National Aviary. The neighborhood's main drawback is its proximity to some not-so-savory areas.
REGENT SQUARE


The heart of Regent Square is Braddock Avenue, a street lined with cafes and independent businesses, including art galleries, an upscale consignment boutique and an art house theater. Bordering the neighborhood is Frick Park, which at 600 acres is the largest of Pittsburgh's parks. Besides quick access to an array of amenities, residents of this compact neighborhood also enjoy a welcoming atmosphere, said Maureen States, owner of Neighborhood Realty Services in Regent Square and a lifelong Pittsburgh resident.

"It's not puffy, it's not phony. It's real people," she said. "When I feel stressed out, I walk down the street to the mailbox, chitchat with people all along the way. Then I'm ready to go back to work."
EAST END


We cheated here: East End is actually a section of the city with many neighborhoods, but it's the most vibrant and established section with the widest appeal. It stretches from one of the state's biggest job centers, Oakland -- congested with college students and hospitals -- out to Point Breeze at the city's eastern border, where moneyed families live in multibedroom homes on quiet, leafy streets. We've chosen to lump them together so they don't steal the spotlight from some of the other great neighborhoods in Pittsburgh.

Shadyside and Squirrel Hill

These neighborhoods make up the core of the area, what some locals consider the East End.

Shadyside, like Point Breeze, is another old-money section of the city, home to what was called Millionaires Row in the steel mogul era. Richard Mellon Scaife, heir to the Mellon fortune, still owns a home here and the city scored a coup two years ago when Mike Tomlin bought a Shadyside home, becoming the first Pittsburgh Steelers coach in half a century to move into the city. This walkable neighborhood is centered around the eclectic Walnut Street business strip. It draws homebuyers of all ages and young renters, especially recent graduates moving up the social ladder from bordering neighborhoods. "It was ultra convenient for work. ... I was within walking distance for everything," said Steve Frank, 29, an Ohio native and Alcoa employee who moved to Shadyside from Oakland two years ago. "Especially in the summer and the spring, it's just real nice to walk down the street and look at all the big houses."

Squirrel Hill has similar demographics with one significant difference: a distinct Jewish heritage that really makes it one of the country's great neighborhoods. There are synagogues in this neighborhood of 24,915 people, and the Jewish Community Center's Hebrew clock is an iconic landmark. The main drag on the hillside, with delis, shoe stores and art house theaters, is always bustling with people, some from the surrounding neighborhood and some who drive from the suburbs to shop or just walk around.


Bloomfield and Friendship


North of Shadyside and Squirrel Hill are neighborhoods going through a metamorphosis. Once older, working class neighborhoods, their largest group of residents now is aged 25 to 34.

Bloomfield is full of row houses and tight alleys. Its heritage is most visible during Little Italy Days, complete with a procession of the Madonna della Civita.

Friendship is just a sliver of a neighborhood to the east, full of leafy streets with large Victorian homes, many of which are now divided into apartments. Its best feature may be that it sits at the intersection of Shadyside, Bloomfield and East Liberty, and residents can walk to all three to sample some of the best restaurants and boutique shops in the city.


East Liberty


East Liberty itself mirrors the recent successes of Pittsburgh. Not long ago it was one of the city's most depressed neighborhoods, but is now on the rebound, drawing shoppers and diners from all over. The development started with a Whole Foods, and now includes some of the nation's largest chains that either didn't exist in Pittsburgh or were at least a 20-minute drive away. Some of the residential neighborhoods are still too sketchy to recommend, but if you move to Pittsburgh, you'll definitely visit East Liberty to shop, eat and maybe dance at the urban hotspot Shadow Lounge and Ava Bar and Lounge. This is one of the hippest spots in the city: For example, the shop next door is operated by student artists from Carnegie Mellon University, selling waffles and videotaping late-night panel discussions among customers.
VIRGINIA MANOR, MT. LEBANON

Living in the city can have its downside, most notably a 3-percent income tax and challenged public schools. Mt. Lebanon may be the best answer Pittsburgh's suburbs have to offer. With a high-achieving school system, sturdy older homes built with style and some of the best mass transit options in the region, this South Hills suburb has always been a community in demand.

Virginia Manor is the town's signature neighborhood, said M.A. Jackson, president of the Historical Society of Mount Lebanon and an associate editor of Mt. Lebanon Magazine. "The houses are just beautiful, huge homes," she said. "Some of them will just take your breath away." Town planners designed the neighborhood streets to take advantage of the region's hilly landscape and use gentle slopes to enhance the street view.

Many Virginia Manor homes cost upwards of $500,000. There are smaller, multibedroom homes selling for less than $200,000 in other sections of town.

This first-ring suburb also has an infrastructure for the green-thinking commuter. There are plenty of sidewalks to get to the small, bustling business districts in the town, and Mt. Lebanon has a stop on the T, the city's light rail line that only goes to the South Hills. The school district maintains seven elementary schools to keep them small and take advantage of the neighborhoods. There are no buses, and children walk to school all over town.

One weakness of Mt. Lebanon is its lack of diversity. More than 96 percent of its residents are white(though many other Pittsburgh suburbs have similar numbers), according to U.S. Census Bureau data. The town does not have a long history of inclusiveness. A 2001 story from the Pittsburgh Post-Gazette recalls how residents dissuaded Muhammad Ali from buying a house in Virginia Manor.
Other Suburbs of Interest


Peters Township: Another South Hills suburb with a great school district. You may be able to get a larger plot of land here than in Mt. Lebanon, and you may save some money in taxes living across the county line in Washington County. The tradeoff is a much longer commute with poor mass transit options, and property won't be any cheaper. Search homes for sale in Peters Township in McMurray.

Cranberry Township: Another popular exurb that some flock to for more land and to escape Allegheny County taxes, this time in the northern Butler County. Cranberry, however, is the epitome of suburbansprawl with congested strip malls and workday commutes to the city lasting about an hour (or longer on snowy days, of which there are many). Beyond its popularity, the town is worth noting for an upcoming mixed-use development called Park Place, that is supposed to be flush with sidewalks. It is still in its first phase of construction. Search homes for sale in Cranberry Township.

North Huntingdon Township: Anyone intent on finding a plot with huge yards should try this eastern exurb in Westmoreland County. Its market is saturated with new construction, and that might allow you to find a good bargain. The commute is still lengthy and its school district doesn't have the same reputation as that of Mt. Lebanon's or Peters Township's. Search homes for sale in North Huntingdon Township.

Moon Township: For affordability with a 20-30 minute cut to travel time, try Moon Township.BusinessWeek dubbed it one of the northeast's best affordable suburbs in 2007. A lot of other places in the county can offer specific advantages, but homebuyers can find just about anything in Moon: cul-de-sacs, new construction, fixer-uppers, established neighborhoods, college apartments and even some remote plots near neighboring Crescent. It also borders Pittsburgh International Airport, making it a hot spot for businesses, including FedEx Ground and Michael Baker Corporation. Search homes for sale in Moon Township.
And One Neighborhood the City Wants to Be Great But Isn't Quite There

Locals have yet to call downtown a "great" neighborhood, but there's too much going on for it to be ignored. The Golden Triangle has added nearly 400 new housing units since 2007, a combination of new construction and the conversion of former retail and office space. Expect double that amount during the next decade, according to the Pittsburgh Downtown Partnership. For those interested in city-center high-rise living, this is the only option in Pittsburgh. The new units have sold well, too. Downtown has a 95 percent occupancy rate on 1,860 units. The early stage of development in downtown is focused on the wealthy, with all of the new condominiums going for no less than $200,000. That meshes well with the high-end shops and theaters that bring some vitality to the neighborhood.

However, that is pretty much all the vitality the neighborhood has, which is why locals can't yet recommend downtown but are keeping an eye on it. The riverside Cultural District is in the middle of a renaissance several years in the making, but outside of it, downtown empties out quickly after the workday. Many of the shops close by 7 p.m., giving most downtown streets a deserted feel early in the evening. The closest supermarket is almost a mile away across the Allegheny River. The building boom itself has been a problem for some residents because of the late-night noise. Downtown business owners have aggressively promoted the area as a trendy place to live, but locals think it's a little too early to make that claim.