5 Great Neighborhoods in Richmond
Find out which of these five great neighborhoods in Richmond, Virginia is right for you.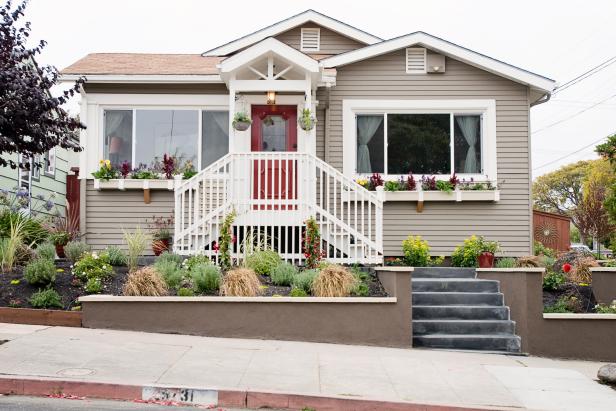 After: Tidy Turnaround
After installing multiple retaining walls, HGTV's Curb Appeal team created a colorfully landscaped front yard accented by flower boxes beneath the front window and a bright red front door with a stained-glass insert. The new staircase provides more space around the front door, creating a more graceful entryway.
1 The Fan The Fan is authentic "old urbanism" and is home to students, young families and empty nesters. Artistic abandon and traditional conservatism exist here in a happy balance.

Flagship Addresses: Grove Avenue, West Avenue

Named for the "fan" shape of streets branching from Belvidere to the Boulevard, the Fan is the most eastern of the West End neighborhoods and is made up of Victorian townhouses, duplexes, carriage houses and converted apartments—and lots of bicycles. The Fan encompasses historic Monument Avenue with its parade of statues of Confederate heroes. Housing in this area doesn't come cheap, but the public schools are good. Neighborhood retail stores and restaurants—offering some of the best food in the city—within easy walking distance make the Fan the most fashionable and fun neighborhood in Richmond.

The Neighbors: Very mixed, attracting everyone from starving students, artists and young families to doctors, lawyers, brokers and Old Richmond money.

Also consider: The Museum District

The Neighbors: Similar to the Fan, though less wealthy. Proximity to both the Virginia Museum and the Carytown shopping district makes for a thriving pedestrian environment.

2 Woodland HeightsJust across the James River in Southside is Woodland Heights, just five minutes from the heart of downtown. From its beginning as a trolley car neighborhood in the early 1900s, Woodland Heights is today a vibrant community that falls somewhere between urban and suburban.

Flagship Address: Riverside Drive

Woodland Heights is the oldest of the neighborhoods that sprung up along the trolley line, and the area is known for its diverse architecture, with houses ranging from bungalows and American Four Squares to Colonial Revival and Queen Anne styles. Traffic is centered on Semmes Avenue, with quiet parks and tranquil winding streets only a few blocks away.

The Neighbors: Here you'll find Richmond diversity at its best, with rich and poor, black and white, come-heres and old-timers living side-by-side in a neighborhood with a decidedly artsy flair.

Also Consider: Forest Hill

The Neighbors: Similar to Woodland Heights, with neighborhood-organized yard sales, community runs and plant swaps. Nearby Forest Hill park serves as a wildlife habitat.

3 Oregon Hill Historically a working-class neighborhood, early residents of Oregon Hill worked at the Tredegar Iron Works and Albemarle Paper Company during Reconstruction. These days, the neighborhood welcomes new faces while retaining its funky vibe.

Flagship Address: Cherry Street

Sandwiched between Cary Street and the river, Oregon Hill offers spectacular views of downtown and the James. New townhouses are being built and historic buildings are being renovated and restored, with revitalization efforts strengthening the already independent and tight-knit community. The State Penitentiary, featured in the Cowboy Junkies' song about Oregon Hill, has been demolished.

The Neighbors: Mostly students and young people, and still home to the working class. The area is less grungy than it used to be, though Oregon Hill is still shaking off this reputation.

Also Consider: Church Hill

The Neighbors: A healthy mix of families with kids, young singles and retirees. Affordable houses can be found, and the community parks make Church Hill an attractive choice.

4 Bellevue At the very edge of Richmond city limits to the North, Bellevue offers the feel of suburban living with the convenience of city amenities. Houses are more modest but well-appointed here, and neighbors know each other's names and phone numbers by heart.

Flagship Address: Pope Avenue

Bellevue is known for its tree-lined streets and Cape Cod and Craftsman single-family homes. There is a small commercial section along Bellevue Avenue, and several restaurants and other hangouts are within walking distance. The small local library is a hub of youth programs, and the nearby retirement center Westminster Canterbury brings some serious money into the neighborhood. Bellevue is fast becoming a bedroom community for Washington, D.C., and property values are increasing rapidly.

The Neighbors: A good mix of young families, retirees and singles of all ages. Mostly well-educated and upper-middle class, there is a fair number of artists and craftsmen mixed in.

Also Consider: Lakeside

The Neighbors: Similar to Bellevue, leaning more toward working class. Bordering Bryan Park—with its popular duck pond, azalea gardens, tennis courts and soccer fields—though streets immediately adjacent to the park can occasionally be prone to crime.

5 Westham Just over the Henrico County Line, the Westham neighborhood is adjacent to the University of Richmond campus and close to the Country Club of Virginia, in an elegantly wooded area featuring white oaks, crepe myrtles, dogwoods, boxwoods and azaleas.

Flagship Address: Highland Road

Built primarily in the 1940s and 1950s as the city expanded westward, Westham borders the University of Richmond and is home to Cape Cod houses alongside elegant estates. Easy access to shopping centers like the Village and River Road as well as nearby private schools and the strong Henrico Country school system make Westham an attractive neighborhood for both empty nesters and families. The area owes much of its charm to the wildlife and native flora in Westham's mature woodland.

The Neighbors: Old money. Many of the kids who go to nearby private schools St. Catherine's and St. Christopher's—and their alumni—live here.

Also Consider: University Heights

The Neighbors: Highly educated in a well-established area, but lacking much of the conspicuous consumption found in Westham and other upper-class neighborhoods.