Apartments in Atlanta, Georgia
Depending on your list of must-haves, there is an apartment in Atlanta, Ga. waiting for you to call it home.
If you're looking for an apartment in Atlanta, you've got a lot of options. Are you looking to be near a MARTA public transit station? Maybe you need easy access to freeways for a daily commute. Do you want to be able to walk to shops, restaurants and nightlife? Are you looking for amenities like a pool and a gym?
The city offers a variety of apartment lifestyles. There are new (and nearly new) apartment complexes, high-rises, multi-family duplexes in traditional neighborhoods, and lofts in former industrial areas. Most local apartments have one or two bedrooms and cater to singles and young professionals more than growing families.
Here's a brief overview of select neighborhoods with a few highlighted examples of places you might live.
The Virginia Highlands/Morningside neighborhood is packed with popular shops and restaurants. There are quite a few small apartment complexes mixed in with single-family homes in the area. Schools in the area are excellent.

Old Fourth Ward: Thanks to the Beltline park development, the O4W is a neighborhood on the rise. The AMLI Old 4th Ward Apartments back right up to the park. If you can wait a few months, the new Ponce City Market will feature some of the city's best views.

Buckhead is packed with full-amenity complexes that serve a wide variety of tenants. If you're looking for a three-bedroom unit, this is definitely your neighborhood. The area is close to shopping at Lenox and Phipps Plaza malls, and the local public schools are among the city's best.

West Midtown has undergone a boom over the last few years. There's a wide variety of modern apartment complexes lining Marietta Street; the apartments are convenient both to downtown and the neighborhood's exciting restaurant scene. If you're looking for something at the top end of the market, check out the Atlantic, a luxury high-rise across the street from Atlantic Station.
If you want a neighborhood that's even closer to downtown, Castleberry Hill is just southwest of the central business district. The rents are reasonable, tenants can choose between new apartments and renovated industrial spaces, and there's a lively restaurant and shopping scene. The ratings of the schools in the area suggest that this neighborhood isn't a great choice for young families.

Glenwood Park is located a few miles east of downtown—right off I-20 near Grant Park, Oakland Cemetery and the Beltline. There are often condos for rent in the condominium developments or regular apartments in the Enso Aparments complex. Renowned restaurants like the Shed and Gunshow are within walking distance.
This is just an overview. There are apartments in almost every neighborhood in Atlanta. Find out more about where you might like to live, and there's almost certainly an apartment option in the area of your choice.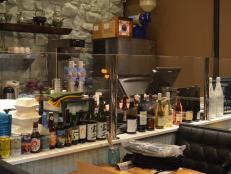 From corn dogs to drag queens, we've rounded up five joints that are totally worth the extra calories.