Aspen: Like No Place Else
These unique local icons make Aspen like no other city.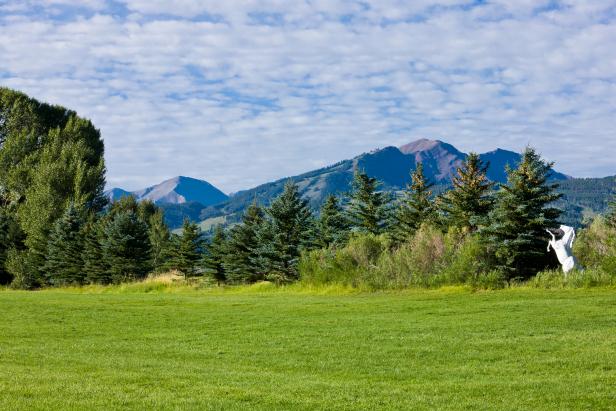 Mountain View: McLain Flats Ranch in Aspen, Colo.
This is the best ranch and property available on McLain Flats and has never been offered for sale before. A 13,000 square foot fitness facility includes a regulation NBA basketball court, tennis courts, racquetball court and an indoor track. Also featured: an eight stall barn, two bedroom manager's house, a main house with office, steam room, children's wing and incredible views from every room.
Joshua & Co. of Aspen, a member of Leading Real Estate Companies of the World
Prospectors came to Aspen in 1879 looking for silver and gold.
They found silver and the resulting boom made many a prospector rich. By 1890 Aspen's population peaked at around 11,000, but the boom would not last forever. In 1918, Aspen's Smuggler Mine, in which a miner had found the world's largest silver nugget, shut down. It was the end of an era.
Aspen, however, did not go away. Not by a long shot. Sure, it went through the "Quiet Years" in the 1930s and 1940s when the population dwindled to less than 1,000. But in the 1950s Aspen was rediscovered by philosophers, ski bums, writers and artists, forming the basis of what Aspen is today, a hotbed of skiing, wealth, culture and history.
The town is dependent on tourists, and many visitors come again and again. Maybe that's because one week in Aspen isn't enough to see everything the area has to offer.
There's Independence Pass, the eastern leg of Colorado State Highway 82 that goes through the ghost town of Independence and summits at 12,000 feet, at the Continental Divide.
There's the Roaring Fork River, which cuts through the heart of town and runs for 50-plus miles through the Colorado wilderness to the delight of anglers, kayakers and rafters.
There are the Maroon Bells, two of Colorado's most spectacular peaks that offer unlimited, jaw-dropping views.
There is the Aspen Music Festival and School, which brings world-class musicians and students to town every summer and fills the days and nights with ear-pleasing sounds.
There is the Aspen Institute, a think tank for some of the world's most innovative and influential minds.
There is ghost town of Ashcroft, 12 miles from Aspen, which offers walking tours through a slice of Rocky Mountain history at 10,000 feet above sea level.
There is the Food & Wine Magazine Classic, a June festival of mouth-watering meals and tastings.
There are the elegant Victorian homes, the cobblestone malls filled with funky shops, upscale merchants, locally owned eateries and international restaurants.
There are the four world-class ski areas that are the envy of other resorts, and the pride of the locals.
To cram everything in a week or two is downright impossible. Which might explain why people move to Aspen. And even the long-timers, those residents with decades of Aspen under their belts, still cannot get enough.
And that's why they still live in Aspen.