Is a condo in Atlanta the answer to your prayers? Read on—we'll help you decide.
Whether you're moving temporarily to Atlanta for a job or downsizing permanently from a suburban sprawler, an Atlanta condo may be the answer to your housing prayers.
Most of the condos in the city are in Midtown or Buckhead. Located in luxury buildings like 1010 Midtown or Buckhead Grand Condominiums, these affordable dwellings are close to public transportation (MARTA) and come jam-packed with fancy amenities like saltwater pools, plasma screen TV theaters and even wine cellars complete with tasting rooms. (We're so there!)
There are a lot of upsides to renting a condo in Atlanta. In addition to being MARTA-adjacent, you also don't have to make a large down payment (beyond the usual first- and last-month's rent) or pay HOA fees.
One downside (and we're not sure you can really count this as a downside) is that some homeowners look down their noses at renters. And sometimes a rental condo's pet policies bite. Make sure you check them carefully—and know that Midtown is the more dog-friendly area because it's close to Piedmont Park.
Here are some other Atlanta rental condos to consider:
10 Terminus Place
Atlanta, GA 30305
Mayfair Renaissance Towers
195 14th St NE
Atlanta, GA 30309
Above The Four Seasons
75 Fourteenth Street
Suite 100
Atlanta, GA 30309
The Atlantic
270 17th St NW
Atlanta, GA 30363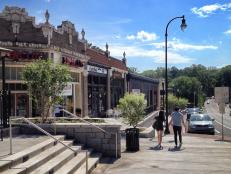 You'll find plenty of apartments to choose from in the neighborhoods surrounding the university.