Atlanta Designers Giving Back
Room Service Atlanta is changing the way the homeless come home, one room at a time.
Room Service Atlanta began in 2010 as many hair-brained schemes are hatched – by a series of late night text messages. Designers Dayka Robinson and Erika Ward were determined to engage and inspire the design community for the greater good. The texts evolved into a series of emails, late-night phone calls, and begat real, hardcore brainstorming sessions, all bent with the idea of combining a love for design with a commitment to serve others. Room Service was born.
"We consider it a blessing to wake up every day and pursue a life in design and are excited to share our love of design with others," said co-founder Erika Ward. "By reaching out to our fellow designers and vendors we hope to not only make new connections, but to also foster a more tangible spirit of giving."
The UMCH staff provides 24-hour support to youths who are housed on site in studio-style apartments. Their work continues and RSA now has more than 20 Atlanta area designers contributing their time and efforts.
We caught up with Ward to learn more about RSA.
How did the concept of Room Service evolve?
Room Service Atlanta came about from our desire to translate our design businesses into a nonprofit effort. Great design is therapeutic to us all, and what's better than to create a healing environment to those who are underprivileged?
What elements of design are most important in what you do?
Function is most important, then style. The stylish furniture we install in every facility is high quality and can withstand the wear and tear of home with a high turnover of residents. If durable, we refurbish some of the facility's existing pieces and give classic pieces new life.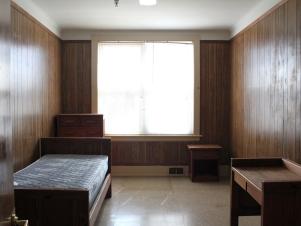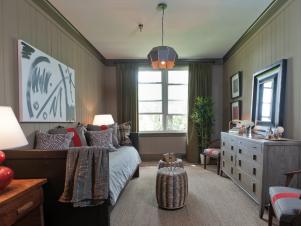 Cofounder Dayka Robinson had her work cut off for her when it came to redecorating this dull boy's room. Much of the furniture was donated or purchased at area thrift stores.
What has been the overall reaction to your project?
We have always been well received in the Atlanta community and beyond. Our biggest donor is our premiere sponsor Mitchell Gold Bob Williams Atlanta. What a luxury to receive their beautiful pieces. Our resident's room is sometimes more attractive than most people's homes. We often get emails from individuals from other cities asking how to bring a Room Service organization to their town. Doing good is infectious.
Can you describe one of the most rewarding moments for you?
It's hard to single out just one moment. I can say each time we complete a project, the outpouring of thanks from the beneficiaries is always heartwarming. A lovely surprise is when our participating designers also express to us how the giving experience positively impacts them as well.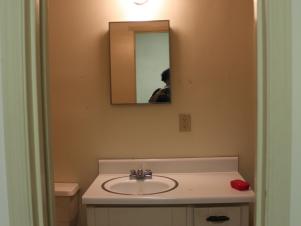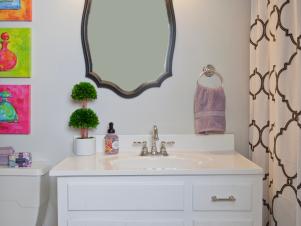 The bathrooms at the United Methodist Children's Home were functional but not so easy on the eyes. A new vanity, hardware and light fixture make this bathroom suitable for any young princess.
What does home mean to you?
Home is wherever you are surrounded by love and support. Even if you are alone, self-love and acceptance can't be beat.
Who or what inspires you and perhaps led you to the Room Service project?
I was initially inspired by the work Vanessa DeVargas was doing in Los Angeles. I contacted her to discuss how she got started. The rest is history. I soon learned about others such as Dwell with Dignity in Dallas, Designs for Dignity Chicago and Special Spaces. I encourage others to get started with an effort in their respective cities. We all make a difference no matter how big or small. A little love goes a long way.
RSA is currently seeking in-kind donations of furniture, artwork, lighting, bedding, window treatments, floor coverings, paint and other home improvement items to aid in their efforts to bring security, peace, and comfort to Atlanta citizens in transition.