We give you the rundown on some of the best home builders in Atlanta.
If you're interested in building a custom home in Atlanta, you have several construction companies to choose from. We've researched a list of several top ones; you can see our recommendations below.
Why do we like these home builders in Atlanta? They offer a variety of options, from townhouses and condos to single-family homes; from gated communities to open neighborhoods. Several of their neighborhoods were either near green spaces, parks and wooded lots—or they incorporated these desirable outdoor amenities into the neighborhood plans.
While the idea of building custom may make you cringe—the expense!—we found that you can build a custom home for as low as the mid-$170s in desirable areas near downtown, like Acworth and Braselton. Most of the upper-range homes topped out in the mid-$450s—Cobb and Roswell, for example—though one contractor we found builds extremely high-end "classical" homes, specializing in projects up to 20,000 sq. ft. and $9 million in size. (Can we tour one?)
Many of these builders don't just build houses—they do entire neighborhoods. The benefit here? Custom amenities out the wazoo. In our research, we saw areas with dog walks, swimming pools, fitness centers, clubhouses and access to parks and freeways. One even has a water park.
If you choose to go custom, you can make your home fit your needs. Want lower taxes? Head to Cobb County. Top school districts? Gwinnett and Alpharetta are ranked as some of the best in the state. You can choose your lot, your materials (interior and exterior), your floor plan and your home style. The downside here can be having too much choice. Of course, the contractors are happy to help you pick the right look—one company even offers on-site interior design consultations.
We put together a short list of some popular builders in Atlanta. This isn't an exhaustive list, so you'll want to do more research if you're thinking about building. If you want more information, visit the Atlanta Home Builders Association, a non-profit, professional trade association whose focus is the homebuilding industry.
Berndsen Custom Homes—This award-winning construction company specializes in classical architecture and high-end estates. They're the only company we found with an award from the Institute of Classical Architecture and they tout their experience with the "requirements, logistics and code issues" of large, high-end projects. Berndsen does new homes, restorations and renovations and, from what we could find on their site, their prices range from $750K to the multi-millions. They focus on the Buckhead area.
Brocke Built—In our research, we found several companies that are "green-friendly," which means they use Energy Star appliances and lighting, home wrapping, green-friendly roofing and exteriors, and energy-efficient windows and doors. In addition, Brocke Built uses eco-friendly plumbing, insulation and air sealing. They're also the only company we saw that focuses exclusively on the West Side—Roswell, Atlanta and East/West Cobb.
John Wieland Homes—In 2009, J.D. Power and Associates ranked this company as being "Highest Ranked Quality Among New Home Builders in Atlanta—Three Years in a Row." They build new construction, focusing primarily on neighborhoods. Their "green-friendly" homes include single-family homes, townhomes and active adult spaces (targeted to homeowners aged 55+). They build from the low-$200s to $1+ million.
DR Horton—These builders offer properties around Altanta, from Acworth to Flowery Branch to Woodstock. They focus on mid-range homes, from the low-$170s to the upper-$300s, and they offer financing as part of their total package. They also offer a special finance program for military, law enforcement, firefighters, health professionals and educators.
Pulte Homes—This company sets itself apart by touting its collaborative process, one that involves homeowners before, during and after the build. Like John Wieland Homes, they're green-friendly, which means they use energy-efficient building materials and claim their homes are 30% more efficient than the average existing home. Their prices range from the mid-$170s to the mid-$450s.
Waterford Homes—These builders work from downtown Atlanta to the northern reaches of the city—Acworth, Cumming, Braselton, Decatur. Their claim to fame? They staff an interior design team to help clients select interior and exterior materials, including flooring, paint colors, cabinets. You can also hire the same designer to work with you after the build for traditional interior design services, including furnishings, furniture layout, and decor such as window treatments.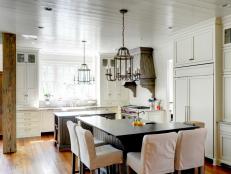 Atlanta has numerous fantastic and talented architects. It is home to Georgia Tech, after all!