Whether you need a new powder room sink or a complete renovation, there's a home remodeler in Atlanta to take care of your every need.
We here at Great American Country know a thing or two about Atlanta home remodeling. Contrary to popular belief, however, not everyone on staff can operate power tools and knock down walls like Jonathan and Drew Scott. What we do know after years of experience and DIY'ing is when to call in the pros—either for a full-scale kitchen renovation or to fix a bathroom we've mucked up.
The good news is that when it comes to home remodelers Atlanta is flush with resources. The hard part is picking the best one for your needs. Our advice is to never make a decision based on emotion—ie: you can live with that Formica countertop for another month—or without doing a bit of vetting. There is absolutely no shame in asking for a contractor's license number and references. Let's put it this way, when was the last time you got a job without a resume?
Lastly, should you ever need to file a complaint or take something to small claims court, hiring someone without a license can negate your chances of retribution or fair compensation. But enough about the bad stuff, let's get to the good stuff. We've rounded up a few of Atlanta's top home remodelers to help jump start your renovation.
Atlanta Design & Build has been providing creative design solutions and quality craftsmanship for Atlanta remodeling projects since 1996. They specialize in residential kitchen, bath and basement remodels, whole-house renovations, additions and outdoor projects. Better yet, they back their work with a two-year HOMEStyle Warranty (twice-the-industry-standard on material and labor limited warranty).
The National Association of the Remodeling Industry (NARI) named Renewal Design Build in Decatur to be the Regional Contractor of the Year in 2012; Renewal Design Build won two residential kitchen and bath categories.
Rubicon Construction, Inc. does it all, including picking up where you left off. They recently completed a stunning kitchen renovation for a client in Buckhead utilizing materials and hardware that provided not only a sleek and modern feel but also helped the client with storage issues.
From a Brookhaven Cape Cod to Greek Revival in Palmetto, Ga., Arc & Angle Home Builders specialize in high-end and luxury renovations and remodels. They service a large swath of the city, including the burbs. Their ultimate goal is high efficiency done with style.
Kara O'Brien specializes in historic renovations and was the go-to pro for This Old House. She also repurposes and restores salvaged building materials.
Glazer gets points for being consistent and reasonably priced.
Phoenix Renovations focuses on luxury renovations, meaning jobs that start at $100,000 and climb upwards of $1 million.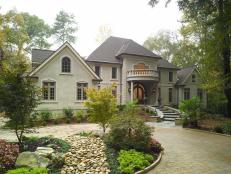 Let an Atlanta home design professional make your dream home a reality.