Atlanta Interior Designers
When it's time to call in the professional interior designers, Atlanta has some of the best.
Even if you're able to make a room look great on your own, there are times when you need to call in a professional interior designer. Atlanta's got plenty of great ones that can help you make a good home look great.
When you call in a pro, there are a few things you should expect. The first is that they should help you realize your own vision and style, not theirs. Of course you should listen to the interior designer's advice, but don't let them convince you that you love magenta when you really want mauve. Your interior designer should be a problem-solver, someone who can take charge and make things happen—move walls, literally. You've hired them to simplify your life and make your home beautiful, not complicate and crowd it. Remember that they are the ones who should deal with painters and contractors. Again, simplify.
Lastly, they are the ones with the "designer only" card, the ultimate backstage pass. Your Atlanta interior designer should be able to get you access to all the great spots like ADAC and the Atlanta Merchandise Mart.
So, equipped with this knowledge, here are a few Atlanta interior designers who can help point you in the right direction.
cgCreativeInteriors is led by principal designer Caryn Grossman, Associate ASID, and senior designer Chris Buxbaum. They recently took the top prize, "Best in Show," in a recent interior design competition at the Museum of Design Atlanta.
Dayka Robinson Designs provides full service design and often incorporates vintage and repurposed pieces of furniture and hardware.
Atlanta-based designer Jenn Ryan scores points with us for her willingness to work within any budget. No project is too small.
Habachy Designs Inc. is an interior and furniture design firm based in Atlanta. Michael Habachy and his crew are known for their ab fab transformations all over the city and other equally glamorous locales such as Miami's South Beach; Montego Bay, Jamaica; and Buenos Aires, Argentina.
Kate Hayes Design draws inspiration from Kate's all-time favorite film, The Wizard of Oz, because there is "no place like home."
Simone Alisa has a flare for the contemporary and will take on projects of any size.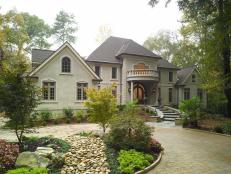 Let an Atlanta home design professional make your dream home a reality.