Atlanta's Coolest Neighborhoods
As the default capital of the southeast, Atlanta is full of cool neighborhoods for every kind of eclectic and alternative lifestyle.
Atlanta offers an underground culture on par with any major city in the United States. Fans of the hipster lifestyle can choose from several cool neighborhoods that cater to more alternative needs.
Little Five Points (L5P) is ground zero for the Southeastern underground. In the early '70s, the neighborhood was under siege from a proposed freeway, and retail rents plummeted. Hippie and punk shopkeepers moved in and kept the stores alive, and the area maintained its hipster cachet after the highway plan was abandoned in favor of the Freedom Parkway.
EAV is the slightly more disheveled younger brother to L5P. The neighborhood features some of the city's best live music and most beloved bars. The EARL is renowned as one of the world's finest small live music rooms and is almost equally revered for its top-quality bar food. The 529 is an even more intimate music venue. Both the Graveyard Tavern and the Octopus Bar (which opens in the So Ba Noodle Bar space after the restaurant closes) host vibrant late-night hipster scenes. The neighborhood hosts one of Atlanta's finest farmers' markets along with the East Atlanta Strut, one of the city's best annual street festivals.
Back in the 1980s, cool kids knew the West Midtown neighborhood well because it was home to the Metroplex, Atlanta's only all-ages punk club. Fast-forward almost thirty years, and even though the 'Plex burned down long ago, the warehouse area has seen a renovation boom that has made it home to affluent hipsters.
Terminal West at the King Plow Arts Center has quickly established itself as one of the city's best live music venues. Old-school types revere the blues performers at Northside Tavern, a downscale bar that dates back to the area's abandoned-warehouse days.
The dining scene may be the city's most vibrant. Ford Fry's The Optimist has been ranked among the best new restaurants in America. In between bites from the killer menu, in-the-know rockers will tell you that chef Steven Satterfield at Miller Union got his start as a member of Seely, Atlanta's great shoegaze alternative band. Molecular gastronomy hipsters will recommend the original location of Top Chef winner Richard Blais' Flip Burger.
The Goat Farm Arts Center is located in an abandoned factory that's been converted into a giant complex that combines live/work studio space for artists with gallery and performance art spaces.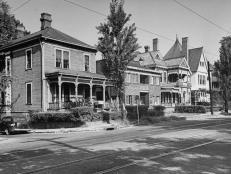 Ride down Memory Lane with us and see what Atlanta's streetcars and neighborhoods looked like in 1944.