Austin: Like No Place Else
Whether you're on vacation or here to stay, this city guide lets you in on all that's quirky and cool in Austin, Texas.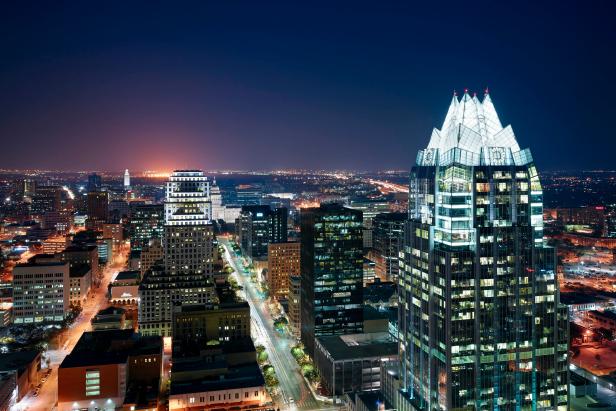 Master Suite in Austin, Texas
Stunning and spacious, this new 2BR+Study/2.5BA floor plan features luxury designer finishes from Greer Interiors and northwest views of Lady Bird Lake, the hill country and city skyline. Master suite showcases an expansive walk-in closet, private balcony and study. Large 2nd bedroom could easily double as another master suite. Foyer opens to a large entertaining kitchen, living and dining area all framed by floor to ceiling windows overlooking the western edge of downtown. Ready now.
Moreland Properties, a member of Luxury Portfolio International
Congress Avenue Bridge Bats
Only in Austin would flying bats become a bona-fide tourist attraction. From March through October, hundreds of people gather every evening at dusk on and around the Ann Richards Congress Avenue Bridge to watch a black cloud of 1.5 million Mexican free-tailed bats stream out from under the bridge and fly away for their nightly feast on mosquitoes and other insects.
Drive around and you'll see bumper stickers, T-shirts and billboards touting this popular motto. It's a sign of the quirky character Austin residents love and nurture. After all, a popular event is Spamarama, a festival held to pay homage to canned meat. Eeyore's Birthday, an event honoring Winnie the Pooh's sad-faced friend, brings out thousands of partiers to celebrate spring's arrival.
Live Music Capital of the World
On any given night, the sound of blues, country, rock and roll, jazz and folk blend in Austin's renowned music districts that attract more patrons than ever at 200-plus establishments now that all public places are smoke-free. The hip, college-age crowd generally drifts to boisterous Sixth Street, while the Warehouse District along Fourth Street attracts a supposedly more mature audience. You're not an authentic Austin music junkie until you've joined ranks with hordes of attendees at the world-renowned South by Southwest or Austin City Limits Music Festivals.
Austin is a gateway to one of the state's best-kept secrets, the Hill Country of Central Texas. With topography ranging from rocky ridges and gentle rolling hills to fertile ranch lands dissected by numerous rivers, creeks and lakes, the region offers pleasant surprises to outdoor enthusiasts. Several area state parks, gorgeous landscapes including fields of wildflowers (most notably bluebonnets, the state flower), and abundant wildlife bring city dwellers to the country year-round.
There's a strange cult of armadillo lovers around Austin, to the extent that this armor-plated critter that neither hears nor sees very well has been adopted as their mascot. Affection is evident in all things bearing this recurring symbol: artworks, games, toys, T-shirts and jewelry contain whimsical likenesses of armadillos. Take a ride on the free 'Dillo, historic green trolleys and small buses, to many points around downtown and central Austin. Armadillos are so popular that Austin's science fiction convention is named ArmadilloCon. Since 1976, residents have shopped the Armadillo Christmas Bazaar, a huge fanciful sale and musical extravaganza, which began as a special event at the famed Armadillo World Headquarters, once the hottest club in Austin and still a legend around town.