Best Neighborhoods in Atlanta
Atlanta's finest hoods are the best based on their diversity, creative use of space and proximity to our stellar list of diversions.
JJ Ortega Real Estate Photography
Newsflash: we love Atlanta. It is the shining jewel that crowns the South—the capital of Georgia and one of America's most diverse, eclectic and accepting cities. Get ready for grandma's brag book because we are going to extol the virtues of Atlanta's best neighborhoods, the absolute cream of the crop, Atlanta's all-stars, if you will.
Defining something as the best is, of course, a matter of taste. We are taking into account each neighborhood's overall desirability, safety and attractiveness.
If money were no object we would live in Atlanta's Ansley Park, without question. We love it for the majestic and historic homes, the wide roads and shaded parks located throughout the neighborhood as well as the incredibly convenient location. Not only are some of our favorite eateries within walking distance—like South City Kitchen, the Spence and Empire State South—but also some of Atlanta's finest and liveliest hotels are just a stone's throw away in Midtown. Why in the world would we want to live near hotels you might ask? The answer is quite simple: When some of the city's best festivals like Music Midtown and the Dogwood Festival take place, having a cool hotel like the Loews Atlanta or the W nearby can make for a really fun weekend with friends—as many as you want.
Ansley is also within walking distance of Midtown, home of the High Museum of Art, the Woodruff Arts Center, the Fox Theatre, MARTA, the Center for Puppetry Arts and the Center Stage Theater.
Midtown is also a favorite neighborhood for its brand-new sparkling high-rises, proximity to Piedmont Park, the dog-friendly aspects, the public transportation and the aforementioned amenities. Although the primary public school system leaves a little bit to be desired, Grady High School, which sits opposite Piedmont Park, is one of Atlanta's top public schools.
The next-best Atlanta neighborhood on our list is Old Fourth Ward/Poncey Highlands. We are quickly falling in love with this historic neighborhood for what's in store for the future. Not only did the mayor of Atlanta declare it "a zone of opportunity," but it is also becoming a national example of what an urban community should and can be. All sorts of structures that would have been otherwise demolished are now being converted into either live/work spaces or retail spaces. It is also one of the neighborhoods that takes advantage of Atlanta's very exciting BeltLine.
Rounding out the list is the adjacent Westside, which is also known as West Midtown. It is also a shining example of reusing and recycling our fantastic warehouse spaces. It has by far some of the coolest loft apartments and most fantastic restaurants in the city.
So, where do you think you would want to call home?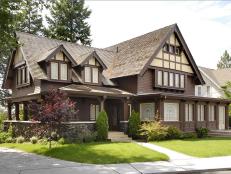 This Tudor-style village is known for its diversity and love of the arts.