Bob Buckter: The Man Who Paints Ladies
Also known as Dr. Color, the preeminent color consultant has chosen many of the vivid hues found on San Francisco's famous "Painted Lady"-style Victorians and Edwardians.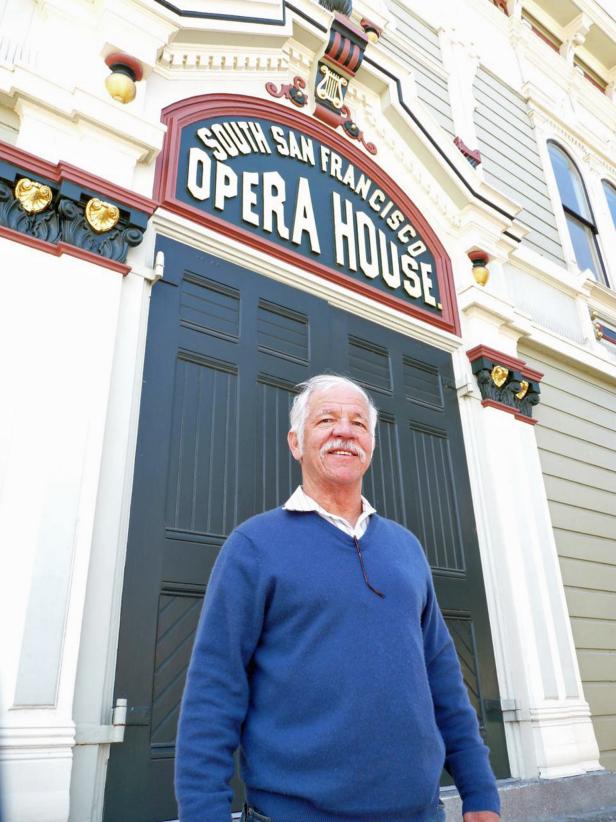 Color Consultant Bob Buckter
Since 1970, Bob Buckter has been in the architectural color design business, and he's completed more than 22,000 projects in San Francisco and around the world. Here, Buckter stands in front of the renovated Bayview Opera House, for which he provided his services pro bono.
Bob Buckter, aka "Dr. Color," didn't set out to change San Francisco and the world. All he wanted to do was make a couple bucks as a broke MBA student. Forty-three years and more than 22,000 projects later, he's one of the preeminent color consultants in the world – the select few who choose the bold, bright colors used on "Painted Lady"-style Victorians and Edwardians here and around the world.
Hired in 1970 for $1.80 an hour by a buddy with an unlicensed painting business, he only lasted two weeks on the job. (Having never picked up a brush or climbed a house-ladder before, he was ... kinda slow.) Sensing a booming business, he set up shop for himself, and rapidly found himself in demand – and in love with the sense of satisfaction that came from a job beautifully done.

"After about a year in the business, I did a four-color Edwardian façade for a lady, and decided I wanted to be the best at this," Buckter says, with the sense of simultaneous wonder and destiny that seems to accompany all conversion stories. "To be able to stand back at the sidewalk, look up at my work, have the customers like it, have people on the street pay me compliments ... that felt great. I just wanted to keep doing it. I wanted to get my art out there."
He had never thought of himself as an artist. His undergraduate degree was in behavioral sciences and business. But both seem to have come into play in his long career. Eschewing the idea of matching colors to the first ones used on the building – after all, who knows if you'll like those, or if the original owner even did? – he says, "My task and my style is to interview people and find out what their tastes are. Then I look at what's across the street, what's next door, what the neighborhood is like, and whether they're concerned about the resale value of their property. I get right down to the exact colors in very little time."
A more flamboyant display in a less flamboyant neighborhood, like Pacific Heights, he says, can annoy people and negatively affect the resale value. Of course, the opposite can also be true – the Mission will enthusiastically welcome a more vividly hued building.
Buckter's moment of epiphany came at the perfect time. Hippies had moved into the Haight-Ashbury neighborhood, and in a rejection of what they saw as the sterility of modernist architecture, they embraced and celebrated the ornate frippery that seemed to spread like ivy over the front of the then-unfashionable Victorian and Edwardian buildings they took over. Interiors were jammed with beaded lamps and velvety wall-hangings; exteriors were festooned with psychedelic shades reminiscent of ... well, you know.

Far from being a departure from tradition, multicolored treatment of these romantic, ornamented buildings is, in fact, often true to their original style. The 19th century saw a revolution in available paint colors, and, as noted in Daughters of Painted Ladies: America's Splendid Victorians, one of five books on Painted Ladies, "The exterior paint colors frequently reflected the colors in the stained-glass transoms. Usually the body, trim, shutters and sash were different colors, with up to five harmonious, contrasting shades." In fact, it's the boring monochrome that was an imposition on these ornate "victrocities," as critics called them; many were later painted over in cheaper, longer-lasting grays out of frugality.
Buckter became one of several spearheading leaders of the "Colorist Movement" of the 1970s, ditching the painting altogether in 1977 after taking a year to sail the world and realizing he really just wanted to focus on color consulting – providing a list of colors to a homeowner and overseeing the paint job rather than doing it himself. "My first year of consulting, I produced 40 jobs. In 2006, I produced 660." When the economy tanked, his business dropped, and while it still hasn't recovered to those heights, he still works steadily based almost entirely on word of mouth.
So why? Why did this movement take hold here, in San Francisco, and travel, by way of the opening scene of Full House and other pop-culture mainstays, to the rest of the country and even the world? "San Francisco is unlike any of the 80 countries I've traveled to," Buckter says. "Its totally wide open to anything: Pull out all the stops, anything goes. It's tolerant, forgiving and open to just about anything that goes on. That's why there's this unbelievable music scene. Because of that type of atmosphere, the openness to colors flourished – they were celebrated and spread out all over the country."
And Buckter has certainly left his stamp on the city he holds so dear. "My style and influence has had something to do with how this town looks," he says, "and for all the jobs I've done, I'll bet I've inspired three to four more. Nobody else can compare to that breadth of work. There's a lot of me out there."