A laundry list of Boston's activities, eateries, walks and freebies.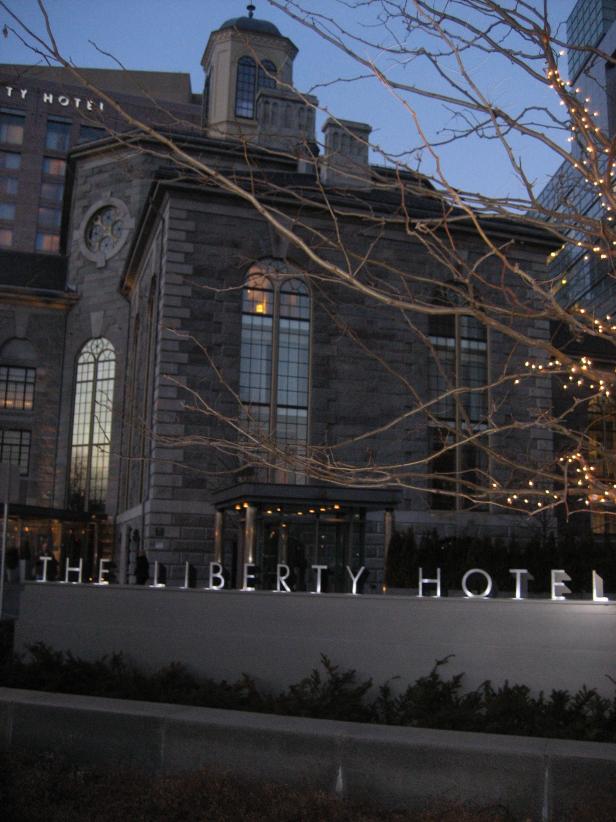 Boston's Liberty Hotel, Exterior at Dusk
The luxurious Liberty Hotel in Boston's Beacon Hill hosted some quite notorious "guests," including former Boston mayor and later governor James Michael Curley, Malcolm X, and Sacco and Vanzetti – when it was the Charles Street jail. It closed in 1990 and became a hotel in 2007. Rumor has it the hotel is haunted; one thing we can assure is that the thread count has increased.
Food and Drink Essentials: Best Places to...
EAT OYSTERS

There are a dozen varieties at Neptune in Boston's North End neighborhood, a cozy place with 26 seats and 16 bar stools.

B&G Oysters in Boston's South End neighborhood, a small venue overseen by celebrity chef Barbara Lynch. Lynch also cooks a mean soft-shell crab on those nights she's working behind the bar.

STOP FOR HOT CHOCOLATE

Burdick's in Harvard Square, a local spot that looks a bit like a Starbucks and is just as crowded. Selection includes chocolate cakes, homemade candies and enormous cups of hot chocolate.

STOP FOR A BAGEL

Kupel Bagels in Brookline, the favorite spot for true New York quality bagels and hands-down favorite among this suburb's large Jewish population.

BUY ITALIAN PASTRIES

On weekend nights, there is always a long line at Mike's Pastry on Hanover Street, because loads of tourists cram into the bakery on the main drag in Boston's North End.

Though Mike bakes a mean ricotta pie, insiders know there are wonderful, authentic pastries nearby at Maria's Pastry Shop, a tiny shop on Cross Street.

Also try Modern Pastry a few steps down Hanover Street from Mike's.

EAT CLAM CHOWDER

Legal Sea Foods is a Boston institution, and it's milky clam chowder is subtle and superb. Also, try the Blue Fish plate, a specialty using a local fish.

Proprietors of corner bars and unpretentious restaurants all over the city -- including the Steamship Authority Ferry to Martha's Vineyard -- pride themselves on their clam chowder. Give any of them a try, and it's unlikely you'll be disappointed.

BUY CHEESE AND WINE

Formaggio's in Cambridge is as good as any Italian cheese shop, with hundreds of cheese, as well as prosciuttos, olive oils and other delicacies. The staff is extremely helpful with selections, too.

Walk into the Wine & Cheese Cask in Somerville and tell one of the store's staff you're having for dinner or celebrating a big birthday and they'll recommend the perfect wine or champagne.

BUY ITALIAN SPECIALTIES

Bella Pasta in Medford is a half-mile from the Somerville border and makes fresh pasta daily.

Sessa's in Davis Square in Somerville has prosciutto, dried pasta, pepperoncinis, Italian cold cuts -- you name it. It's a few steps from the Davis Square subway stop.

BUY VEGETABLES

The open-air vegetable stands at Haymarket Square -- near Boston's waterfront and North End -- offer loads of inexpensive vegetables and an old-fashioned city atmosphere every weekend.

A. Russo & Sons is a half-hour drive from downtown Boston, but it's worthwhile. Russo's has every imaginable fruit and vegetable, all of superior quality. Avoid Saturdays which are a mad house. Founded more than 75 years ago by Antonio Russo, it is still a family business.

Entertainment Essentials: Best Places to...
SEE FENWAY PARK FROM THE OUTSIDE

The Bleacher Bar opened in May 2008. Fans can have a beer at this Lansdowne Street bar, which is on the same level as the baseball field. Patrons look through an enormous door cut into the center field wall and directly on to the field. Unfortunately the bar isn't opened during games.

SEE FENWAY PARK DURING A GAME

Box seats on the third base line. Prices for Red Sox are high and rising, a trend reinforced by the team's consistent strong performance since its 2004 World Series win.

WATCH A PARADE

St. Patrick's Day parade in South Boston, or "Southie." This traditionally Irish neighborhood's parade features everything from step dancers and local firefighters to the Irish-American gay and lesbian organization, and lots of people in funny green hats. Get there early because the route is jammed. But the St. Patrick's Day breakfast, where local politicians roast each other and put aside their differences, makes the day a truly Boston tradition.

Gay Pride Parade in Boston in June. Tens of thousands attend the boisterous event and all participate, including Gov. Deval Patrick, who marched with his wife, Diane, and 18-year-old daughter Katherine.

VISIT A CEMETERY

The Granary Burying Ground in bustling downtown is impressive. Three signers of the Declaration of Independence, including John Hancock, Paul Revere and five victims of the Boston Massacre are buried here.

Mount Auburn Cemetery in Cambridge is a fascinating place to stroll Boston's later history. Prisoner advocate Dorothea Dix, Christian Science Church founder Mary Baker Eddy, U.S. Supreme Court Justice Felix Frankfurter, Polaroid Corp. founder Edwin Land, investigative journalist I.F. Stone and others are buried here. Bird-watching, inspections of tree varieties and a view of Boston's skyline from the top of tower hill are rewards for hiking the hilly cemetery.
Nightlife Essentials: Best Places to...
GET A BEER

At Doyle's Cafe in Boston's Jamaica Plain neighborhood, local politicians and journalists with competing reputations and egos have engaged in heated debate here for decades. A wall mural offers a parade of characters, including former Mayor Kevin White; the legendary Boston chronicler, Alan Lupo and "Honey Fitz" Fitzgerald, the maternal grandfather of President John F. Kennedy. The bar and hamburger joint was the set for movies such as The Brink's Job starring Peter Falk in 1979 and Mystic River in 2003 starring Sean Penn, directed by Clint Eastwood, and based on a novel by Boston writer Dennis Lehane.

Deep Ellum is a popular bar in Boston's Allston neighborhood for students attending Boston University, Boston College and oodles of other smaller colleges in the area. Proprietors Aaron Sanders, Max Toste and Josh Velazquez, who opened it in 2007, are serious about their beer selection, and pints can be imbibed on the outdoor patio in warm weather.

DANCE

The Sanctuary near Faneuil Hall. Lines often form to get into this bar in the downtown financial district, which offers guests three separate clubs: Purgatory, Heaven and Hell.

Alibi in the new Liberty Hotel. This newly opened bar immediately became popular among young urban professionals.

HAVE A DRINK

Bloody Mary: The Top of the Hub restaurant on the 52d floor of the Prudential Tower is pricey, charging more than $10 for a BLT sandwich. But the Hub's 360-degree views can be enjoyed on a sunny Sunday afternoon or after a late night on the town. The lounge is open late on weekends.

Champagne: The Bar at Taj Boston hotel (formerly the Ritz-Carlton) overlooks the manicured Boston Public Garden, and all drinks include a view of the Garden through floor-to-ceiling windows. The bar was opened in the 1930s after Prohibition was repealed. Suggested times: the Garden's fall leaves are brilliant, and summer plantings are profuse.

LISTEN TO JAZZ

Boston is a white-hot music center, whether you're talking about Aerosmith, which started in Boston, the local punk band Drop Kick Murphys, concerts at Harvard, Berklee College of Music, Boston University, the Boston Symphony Orchestra, the Hatch Shell on the Charles River and too many others too name. But Boston and Cambridge get special credit for trying to preserve America's jazz tradition.

Wally's Cafe Jazz Club is a postage-stamp of a jazz club that founded in 1934 by Joseph "Wally" Walcott and run by his descendants. Charlie "Bird" Parker, Dizzy Gillespie and Billie Holiday hung out there in the 1950s and young musicians today keep the tradition alive at Wally's.

Berklee College, as well as The Regattabar Jazz Club at the Charles Hotel and Ryles, both in Cambridge, are also frequent jazz venues.


Outdoor Essentials: Best Places to...
SPEND A SPRING DAY

Every May, the Arnold Arboretum in Jamaica Plain hosts Lilac Sunday where visitors can walk miles of green acreage to see lilacs or rose gardens, evergreen stands and wild flowers throughout other times of the year.

SPEND A SUMMER NIGHT

The Lantern Festival at the Forest Hills Cemetery in Jamaica Plain where visitors write messages to departed loved ones and set them afloat on a pond in the 250-acre cemetery.

ENJOY A NIGHTTIME VIEW OF BOSTON'S SKYLINE

Webster Street, a trendy neighborhood on Boston Harbor in East Boston, provides a stunning view of the city lights at night.

ENJOY A DAYTIME VIEW OF BOSTON'S SKYLINE

As part of the new John Joseph Moakley Courthouse, named for the popular congressman who died in May 2001, the city landscaped a park and walkway along the Boston Harbor that looks across to the city's harbor and downtown.

SUNBATHE

Crane Beach in Ipswich on the coastline north of Boston is a long, sweeping beach. When the tide goes out, visitors can walk out to the sandbars in shallow water warmed by the July or August sun. The water isn't always warm, even at summer peak, but chances are better than in June or September of a good day for swimming.

Horseneck Beach on Buzzard's Bay on the coastline south of Boston stretches for two miles near Buzzard's Bay and offers warm, swimmable waters from the Fourth of July on and a steady breeze even on sweltering August days. The long, shallow beach is inviting for children and breezes make it a good place to body surf; however, boogie boards are not allowed. A big parking lot and a location an hour's drive from Boston make it an appealing alternative to Cape Cod.