Boulder, Colorado: Exercise for the Mind and Body
Go biking, enjoy college football, wine and dine or follow a trail in the charming city of Boulder, less than 40 minutes from Denver.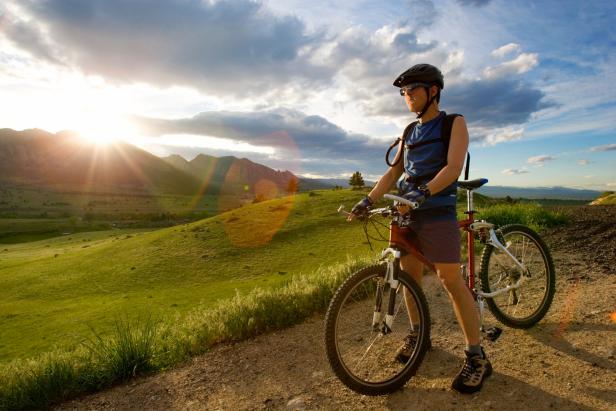 Cyclist in Boulder, Colo.
With a majority of its population under 45 years of age, Boulder's youthful and pioneering population is perfect for a thriving and advocacy-driven bike scene. The University of Colorado adds 37,000 undergraduate and graduate students to the city's modest total population of 97,385 residents. Despite its sometimes challenging weather (with an average of 83 inches of snowfall a year, plus 300 sunny days a year) the percentage of bike commuters here is 4.77 percent.
©iStockphoto.com/Soubrette
Like many Western and Sunbelt cities, Denver sprawls. Drive 10 or 20 miles in most directions and you will find much of the same: subdivisions, strip malls, islands of big-box stores and so on. For the most part, "town centers" are bland administrative buildings. Head less than half an hour northwest, though, and you'll enter something distinct and completely different from Denver and its municipal ripples: Boulder, also known as the People's Republic of Boulder or "25 square miles surrounded by reality."
This chunk of geography, where the last gasp of the Great Plains meets the foothills of the Rocky Mountains, was home to different Indian tribes before gold miners found the place in the middle of the 19th century. Those miners and the people who followed incorporated the town in 1873, and now it has about 90,000 residents, many of them attached in one way or another with the University of Colorado. The city, though, also has the Naropa Institute, the only Buddhist-inspired university in the United States. Both universities are in and around Boulder's charming, historic downtown, with its 1920s Craftsman bungalows and its older Victorians, its almost ridiculous wealth of restaurants, shops and coffeehouses, its thriving farmers market and a never-ending procession of festivals and parties.
The University of Colorado, of course, draws thousands of students into Boulder, also attracting (and tending to keep) academics: teachers, scientists, researchers and administrative workers. Two big federal research facilities — the National Institute of Standards and Technology and the National Oceanic and Atmospheric Administration — are big attractions for scientists, too.
Between it all, Boulder is home to an awful lot of people with busy brains.
Despite this, in many ways Boulder is better-known for a demographic not tied to intellectual work as much as celebrations of the body, and to a lesser extent, the spirit. Not only does Boulder support miles of bike lanes, it enjoys and continues to build dedicated bike paths. You can hop on a bike in Boulder and rarely have to cross, never mind be forced to follow, a road meant for cars. How so? Many of the bike paths either follow tunnels under major thoroughfares or they rise over major arteries on dedicated bike bridges.
It's no surprise that Boulder is one of the nation's meccas for professional bicycle racers. They zip around the city and the foothills on their bikes, often in packs, wearing their team jerseys. They populate the city's gyms, cranking on those stationary bikes. They're often sitting in coffee shops or bars downtown, in full road biker regalia, including those awkward shoes.
And that's just the road bikers. Mountain bikers probably surpass them in terms of numbers. Oh, and there's the professional long-distance runners, too. Boulder is the training ground for many of them, largely because of the 5,344-foot elevation, the sunny skies, and the network of paths throughout the city and in the mountains. One more group worth mentioning: the triathletes. They are everywhere in Boulder.
Mountains at Your Doorstep
Meanwhile, a startling and beautiful eruption of geology — the Flatirons — hangs over the city. From certain neighborhoods in Boulder, trails leading into the Flatirons are, essentially, the backyard. For most people in the city, the mountains are a quick trip away: five minutes in the car, 10 on a bike, 15 or 20 on foot. The proximity attracts people who like mountains to begin with, and for those who never spent much time thinking about mountain life before moving to Boulder, they quickly become converts. Follow a trail on a Sunday morning in the seasons without snow, and you will encounter elderly couples, professors in tweed jackets, families wrapped in fleece and trail runners huffing and gliding up steep hills. You'll also see college kids carrying "bouldering" pads which are thick, rectangular pads they place beneath boulders so when they fall while climbing, the injuries, in theory, won't be too bad. Visit the same trail in January, when it's blanketed in snow, and you'll find people on snowshoes.
There is something unreal about Boulder, and that's a big part of its charm, too. If you live in Denver, it's worth making Boulder a regular stop, for a University of Colorado "Buffs" football game in the fall, for a decadent meal at Frasca Food and Wine, which is probably the best restaurant in Colorado, or just to walk around.