Buckhead, Atlanta: What It's Like To Live Here
If you're pondering a move to Atlanta's Buckhead, there are some key factors to consider.
If you're considering a move to Atlanta and Buckhead is on your short list, there are many factors to consider. Located within the city limits, there's plenty of great shopping, access to public transportation, parks, museums, restaurants, entertainment and nightlife. Buckhead is still one of the most affluent sections of Atlanta and most definitely one of the prettiest. Century-old hardwoods and evergreens tower over massive mansions and rare midcentury moderns alike. And as skyscrapers, mid-rise condominiums and apartments continue to carve a place in the landscape, Buckhead still manages a small town charm for those in the know.

While it is still an "old money" town, a lot of those folks have aged out, making way for the nouveau riche set. Even the owners of stately homes on West Paces Ferry and Blackland Road with private 10-acre lots are not immune to progress. Areas that were once green spaces, a place to walk your dog, are being parceled out to make way for mini-gated communities; where you'd normally find one house, there are four. Buckhead is a prestige address and folks will pay millions for it.

If you're looking to buy a single-family home, you'll need access to a lot of cash or great credit. According to Zillow, home prices in the 30327 zip average at about  $1,165,000 and climb to a staggering $12 million. Don't get too discouraged: Homes in the 30305 zip average around $400K and condos, nice ones with a doorman and pool, can be found for $150,000. Studio apartments start at about $700 a month and luxury rentals can go up to $5,000.

This disparity may seem confusing, but as Buckhead is Atlanta's third-largest business district, developers were keen enough to see a need for varied housing options. With all the new corporate businesses springing up, there was a need for restaurants, bars and other conveniences. This spells great opportunities for college students. Rents are low; good-paying service industry jobs are readily available and public transportation providing access to Georgia State University and Georgia Tech.

Buckhead is also a great place to raise a family. Not only are some of the finest private schools in the nation located in Buckhead, like Westminster and The Lovett School, but it also boasts an award-winning public school system. Sarah Smith Elementary is consistently recognized as one of the best primary education facilities in the country as well as Brandon and Jackson Elementary. Sutton Middle School became an International Baccalaureate World School in 2008 and the sparkling North Atlanta High School with its $147 million dollar price tag opened its doors to students in August 2013.

Keep in mind that Buckhead is part of Atlanta and that means suburbanites, known as OTPers (outside the perimeter), will invade on any given night for a special event at Chastain Park Amphitheater or the Buckhead Theatre. They will be Christmas shopping at Phipps Plaza and Lenox Square and out-of-towners are always going to be your temporary neighbors at the Ritz-Carlton and the Grand Hyatt. This may give Buckhead living a transient feel to it. The sooner you relax and accept it you can start enjoying the beauty and splendor that is Atlanta's Buckhead.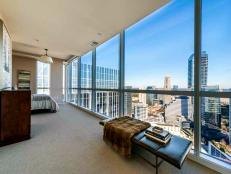 The heart of Buckhead beats in the 30305 zip code though it branches out beyond into three other major zips.