Buckhead restaurants offer a wide variety of cuisines and a heaping helping of Southern hospitality.
Hungry and in Buckhead is a winning combination. Not only are you sure to find the type of cuisine you're craving but it'll also be served up with a heaping side of Southern hospitality. The hardest part about dining in Buckhead may be selecting the restaurant. We're here to help. No matter what your budget is – from penny pinching to sky is the limit – there's a Buckhead restaurant for every taste.

For years we've been waiting for the Shops Around Lenox to be bold and blaze new trails. Finally – and in Buckhead! Bhojanic, known for its home-style Northern Indian cuisine, opened its second location in March 2013 after packing them in over in Decatur. Bhojanic's secret is in its freshness and the fact that they use less oil. We recommend everything under the heading of "Chat," Indian street food as well as the paneer of the day. Be bold yourself, order a thali platter and ask the waiter to choose what looks best. We think you'll be pleasantly surprised. Entrees average $12-14; you're paying for freshness.

Just down the road is the crowd-pleasing Del Frisco's. Yes, it's a chain, but there is something to be said for consistency. That's why on any given night you're sure to spot folks like future MLB Hall of Famer Chipper Jones or other Atlanta Braves like Freddie Freeman and Andrelton Simmons. Even Braves skipper Freddie Gonzales was spotted there enjoying a meal. They come for the cheeseburgers, pimento cheese fritters and the jumbo lump crab cakes. They come back for the impeccable and friendly service. Entrees average around $14. It's when you get into the wine list or the cocktail menu that you might break the bank.

To know Atlanta is to know that we're a Sunday brunch town and there are a lot of options. We chose three: Café Jonah and the Magical Attic, Joy Café and the Ritz-Carlton Buckhead. Cafe Jonah is named after owner Jenny Levinson's son and with that comes great responsibility. Menus change depending on the freshest ingredients available and every Sunday they host "Pay What You Think It's Worth" brunch and give 10% of daily sales every day to local charities. The attic is filled with books, candles, aromatherapy and the occasional psychic. Prices vary.

Talk to any local who's been to Joy Café and they'll give you an opinion, while drooling. Inevitably each sentence will begin with "mouthwatering" ___ insert menu item here. Biscuit, croque monsieur, steak and egg tacos, grilled cheese… Best part though, dog-friendly patio. $10

Okay, we chose the Ritz-Carlton again for consistency and for the champagne. Atlanta is the home of the champagne jam after all. $$$ Bring your AmEx.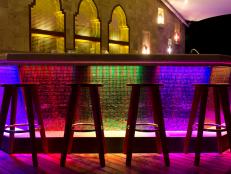 Stepping out to one of Buckhead's many bars can be fun if there is food involved.