Entire weekends are planned around Buckhead shopping for the finds, fun and fabulousness.
Indeed, Buckhead is home to Atlanta's rich, famous and fabulous, and with that distinction comes the city's finest shopping. In fact, Buckhead shopping is so popular that hotels near Lenox Square and Phipps Plaza, Buckhead's two major malls, even offer shopping packages. Yes, it's a fancy town, but don't let this intimidate you. There's always a sale somewhere and whatever you're looking for, from designer clothes to antiques to thrift store finds, the Buckhead shopping districts have something for every person and price.

So, where to start? If the clock is ticking, flip a coin and go to one of the aforementioned malls. The anchor stores at Lenox Square are Neiman Marcus, Macy's and Bloomingdale's. Boutique shops include Cartier, Kiehl's, Mori Luggage and Gifts, Louis Vuitton, Zara and Nicole Miller. Phipps has Saks Fifth Avenue, Belk and Nordstrom with loads of high-end shops as well, such as Tiffany's, Jeffrey, L.K. Bennett and Vince. Both malls have concierge services and if time is limited, take advantage of their knowledge. There's also a free shuttle service that runs all over Buckhead, the BucRide, that will drop you off at all the shopping hot spots.

If your charge cards are getting maxed out, head down Peachtree and turn either way on Piedmont and you'll find a Ross, Marshall's and TJ Maxx, really good ones, where you just might snag a heavily discounted James Perse shirt or a Tory Burch frock. Just a little further from the intersection of Piedmont and Peachtree is an area known as Buckhead's East Village that is nestled between East Paces Ferry and Peachtree. It is dotted with dollhouses that were once private homes and now house fine art galleries, consignment shops, cafes and unique boutiques.

If you're searching for original artwork, one-of-a-kind home accessories, rugs or antiques head to Bennett Street. Just walk out the mall and go south on Peachtree a little way. There are many independent galleries where you're sure to discover a new talent and numerous dealers with unique treasures. Hit the Interiors Market and the Stalls to browse the antiques and home trinkets. Take note that though it isn't especially long, Bennett Street is steep. Hardcore card-carrying designers will want to make Miami Circle their next stop. To list what they don't have would be easier than telling you what is there. Besides the stock is continually rotating and changing. Just trust us and go. You'll also want to hit Atlanta Decorative Arts Center (ADAC), which has been around since the 60s. ADAC has all the latest and greatest fabrics, fixtures and furniture under the sun. Again, you'll need a trade card to get in, though there are often lectures, seminars and other posh events that are open to the public. We hear there's even a sample sale on the odd occasion.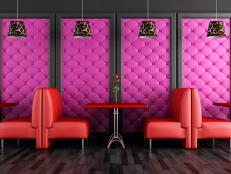 Buckhead restaurants offer a wide variety of cuisines and a heaping helping of Southern hospitality.