Captiva Island's Laid-Back Lifestyle
Located on the west coast of Florida, Captiva is a tropical island escape where life tends to slow down. A pristine paradise, there's a law that says that developers can't build any structures higher than the tallest palm tree.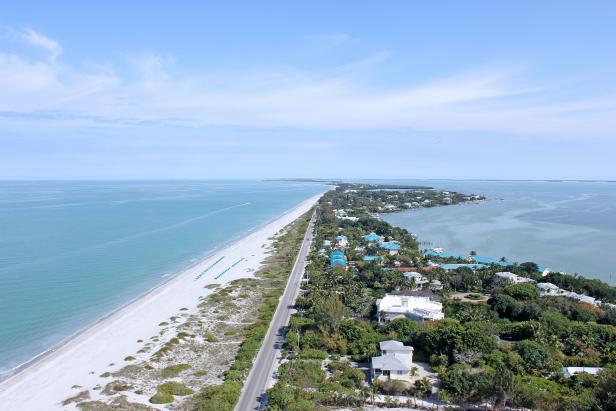 Captiva Island Home: Aerial
Located across from the beach on gorgeous Captiva Island, this four-bedroom Florida home is located on 13550 Palmflower Lane. Listed for $5.65 million, the yellow, cottage-style estate features stunning water views from multiple vantage points. Built in 1998, the tropical vacation home has an open floor plan, hardwood floors, large windows and a coral stone fireplace in the living room. The property comes with deeded boat dock just a short walk behind the home. Mary Ann Cowart with South Seas Sanibel and Captiva Properties has the listing.
South Seas Sanibel & Captiva Properties
Much of Florida's coastline (especially South Florida) has been developed into luxury condo buildings and towering beachfront hotels. But head over Alligator Alley (yes, it's really called Alligator Alley), through the Everglades to Florida's other coast, and you'll find an island or two where there isn't a tall building in sight.
The residents of Captiva have fought for years to maintain a pristine paradise where families can escape their busy lives and enjoy the simple beauty of the sand and sea. In fact, a town ordinance forbids any construction higher than the island's tallest palm tree. It turns out the tallest one towers about 30 feet, so any three-story structures are good to go.
The preferred mode of transportation on Captiva is golf cart, bicycle or boat. There's no need for a car, especially if you live or vacation on the southernmost tip of the island near the South Seas Island Resort. A mini community within the island, South Seas offers vacation rentals that range from bayfront hotel rooms and beach view villas to mulitple-bedroom mansions.

Situated on two and half miles of shell-laden shore, South Seas was designed with vacationing families in mind. There are 18 tennis courts, a nine-hole golf course, fitness center, boutique shops, marina, several sparkling pools, nature center and multiple restaurants, including Doc Ford's -- named after the protagonist in Randy Wayne White's novels.
Things to do on Captiva Island:
● Explore a gorgeous stretch of beach with more than 250 species of seashells
● Spend the day out on the water with Captiva Cruises and explore the neighboring islands
● Watch the sun sink into the horizon from one of the Adirondack chairs at the Mucky Duck