Cheap Apartments in Atlanta
Renters rejoice: There are many options in Atlanta when it comes to renting a cheap apartment, some with fabulous amenities.
There are plenty of cheap apartments in Atlanta and they really aren't that hard to find. Of course there's Craigslist and Zillow, but there's just something to be said for getting out there and kicking the tires yourself. Management companies are usually only open from 10 a.m. till 5 p.m. Why? They want you there when it is quiet and you can't hear the neighbor's PlayStation or their River Dance rehearsal.
You want a cheap apartment probably to save money for a down payment on a house or condo—or perhaps because you're just, er, cheap. We've read countless reviews of apartment homes, and no one gets an A. No one. Our advice is that if you don't like to share, don't live in an apartment because you're going to be sharing everything—walls, halls, parking spaces, laundry rooms, pools, gyms ... Did we depress you?
Don't get discouraged; thanks in part to the plethora of luxury-condos-turned-rental, some of the nicer apartment complexes in the city have dropped their prices.
What's our definition of cheap? Let's say $700 for a one bedroom, $1,100 for two.
These babies are near the new Atlanta streetcar, and it is within walking distance to great restaurants and bars as well as the MLK MARTA station. With on-site features like a business center, laundry, four garden courtyards, community clubhouse, a gym, a pool, storage spaces and controlled-access covered parking, your dollar will go far. Apartments have W/D connections in the units, and some have vaulted loft ceilings. A one-bedroom starts at $590. Did we stutter?
These apartments kind of break our collective hearts and represent what could've been or perhaps still can be for Mechanicsville. Located in the old GE factory building, the apartments have high ceilings, lofts, balconies and a small playground. They are bare bones in terms of amenities, and the neighborhood is still a little dicey, but the community is gated. A one-bedroom starts at $660 and a three-bedroom with two baths currently leases for $850. That is not a typo.
Hey, the management office is open until 6 p.m. Request a showing as late as possible. These apartments are clean, near shopping (Target) and restaurants (Flip Burger) and public transit. They allow pets of all sizes and give student discounts to give you an idea of who your neighbors might be…. Scooby Doo and Shaggy, perhaps? One-bedrooms start at $700 and two = $900.
This historic building is so old-school that they don't have a name. The marble entry is something out of Margaret Mitchell days, and we love the hardwood floors. It is on the very edge of Midtown, teetering into a not-so-safe area, but with one-bedrooms staring at $710 you might be able to overlook this. Pets are welcome. Get a big dog.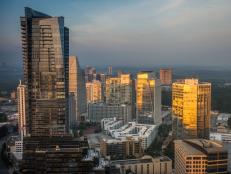 Depending on your list of must-haves, there is an apartment in Atlanta, Ga. waiting for you to call it home.