Dallas: Beyond the Stereotypes
The Dallas of today is very different from the city of ranchers, oil barons and scheming Ewings featured on the long-running soap opera about the Texas city.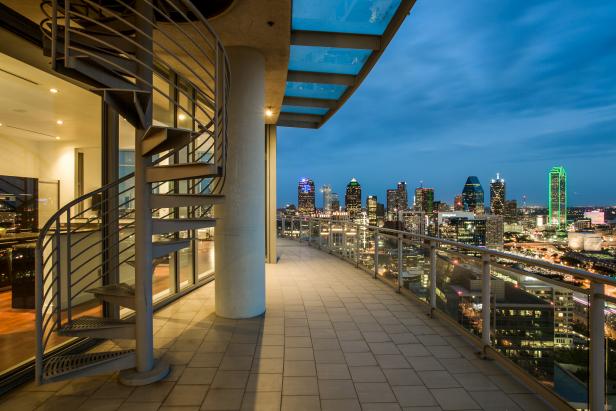 Balcony View: Luxurious Dallas Penthouse
A spiral staircase leads down to the spacious balcony, where gorgeous views of the Dallas city skyline can be seen.
Dave Perry-Miller Real Estate, a member of Luxury Portfolio International; Shoot 2 Sell Photography
Mention to someone outside Texas that you're from Dallas, and chances are you'll hear about connecting at the massive Dallas/Fort Worth International Airport, the Dallas Cowboys or J.R. Ewing.
The first two references make local leaders beam: After all, D/FW Airport, the world's third busiest in terms of traffic, is the largest connecting hub for Fort Worth-based American Airlines Inc. and a key driver for economic development in North Texas. And the Dallas Cowboys, nicknamed "America's Team," continues to be one of the most bankable sports franchises.
But when it comes to J.R., folks start to cringe.
"J.R. doesn't live here," says John Crawford, the chief executive and president of advocacy group Downtown Dallas, adding that he still runs into those who think Dallas residents live on ranches and ride horses to work.
Veletta Lill, a former executive director of the Dallas Arts District, says even when the show was on, it didn't really reflect the city. For example, all those scenes of J.R. wearing his Stetson cowboy hat? "That was more stereotype than reality," says Lill, adding that if you want to see someone in a cowboy hat today, you'd be better off going to Fort Worth.
These days, the show Dallas is a mixed blessing for the city. Thanks to reruns in other parts of the world, the image of the city — or at least J.R.'s version -- has remained firmly lodged in the minds of fans. But the Dallas of today -- and the Dallas being built for the future -- is very different from the city of ranchers, oil barons and scheming Ewings.
"Dallas today is a very cosmopolitan, dynamic city that has a lot to offer visitors and businesses," says Phillip Jones, chief executive of the Dallas Convention and Visitors Bureau.
The banking crisis of the 1980s forced Dallas to retool and diversify. Today, the North Texas economy is one of the strongest in the nation, thanks to a broad mix of retail, financial, energy, aerospace and technology firms. Dallas's central U.S. location, affordable housing and a robust, well-educated labor force have helped the area attract major industry players, among them Texas Instruments Inc., American Airlines, Southwest Airlines Co., J.C. Penney Corp. and Exxon Mobil Corp.
The TV show's maverick business attitude lives on, however, in the bold, risk-taking sensibility of folks like Dallas Mavericks owner Mark Cuban and Southwest Airlines co-founder Herb Kelleher.
Today, the city's downtown area has $13 billion in development projects, including the redevelopment of a former brownfield site into Victory Park, the completion of the Dallas Arts District and the development of the Trinity River Corridor.And eEconomic incentives have encouraged developers to remake Uptown, directly adjacent to downtown, into a fashionable, walkable neighborhood filled with restaurants, shopping and entertainment.
The face of Dallas's downtown has also undergone significant change as developers transformed underused and vacant buildings into condos and apartments. Until 1995, the only downtown residential building was the 250-unit Manor House. Today, however, 5,000 people live inside the central business district; factor in the neighborhoods adjacent to downtown, including Uptown, Victory Park and the Cedars, and that population rises to 30,000.
"Downtown has moved from a one-dimensional commercial office center to a multidimensional, vibrant community with residential, retail and entertainment," Crawford says.
And then there's the Dallas Arts District. A project first envisioned three decades ago, the largest contiguous urban arts district in the nation was completed in 2009, with the opening of the Dallas Center for the Performing Arts. Billed as "Dallas's Lincoln Center," the $354 million development includes a flexible theater, opera house, city performance stage and outdoor venue.
"Dallas is truly changed," Lill says. "Just like we've diversified our economy, we've diversified almost everything about our lifestyle." She credits the Nasher Sculpture Center for helping Dallas gain notice as an important contemporary arts center.
And there's the food. Dallas is simply a town that loves to eat well, and with the help of innovative celebrity chefs such as Dean Fearing, Stephan Pyles and Kent Rathburn, the city adeptly competes again other food meccas such as New Orleans.
Fashion-lovers still pay pilgrimage to the downtown Neiman Marcus, the Dallas-based company's flagship property. (For those who still haven't heard, the infamous $250 Neiman Marcus chocolate-chip-cookie recipe is myth.) And though suits seem awfully stuffy in Dallas, this is still a place where being fashion forward is important -- in fact, it's not all that unusual to see a woman head to the grocery store in heels.
And of course, there's the athletics scene: sports-lovers can take their pick of pro teams among the Dallas Cowboys, Dallas Mavericks, Dallas Stars, Texas Rangers and FC Dallas.
Leaders say to see more of what's happened in the neaerly two decades since Dallas ended, just wait.
"Dallas is a transformative city," Lill says. "It's still remaking itself."