Five Great Neighborhoods in Portland
Get to know some of the best places to call home in Portland, OR.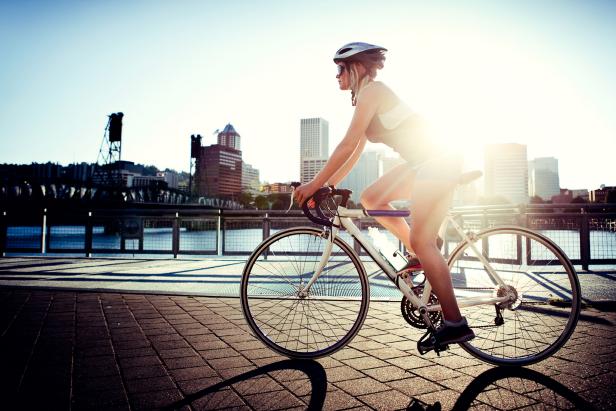 Cyclist in Portland, Ore.
Portland boasts a strong and enthusiastic bike scene consisting of a large number of regular cyclers on the road, government-supported bike infrastructure, several government and privately supported bike programs, and an abundance of bike resources such as retail shops and instructional co-ops.
©iStockphoto.com/RyanJLane
"NoPo" is the city's final frontier in gentrification. For years, the north side of Portland was a blend of working-class residential neighborhoods and industrial stretches, but in recent years, the Mississippi neighborhood has undergone a rejuvenation known as the "Mississippi Miracle." An influx of entrepreneurs has opened hip restaurants, bars and boutiques in the area's abandoned factories and warehouses.
Flagship Neighborhood: Mississippi
The Neighbors: Blue-collar workers, elderly minorities, young entrepreneurs, artists, singles
Named after North Mississippi Avenue, which runs through this area, the Mississippi neighborhood has changed drastically since 2004 when the MAX light rail connected this old industrial neighborhood to downtown. This opened doors for go-getters to start the renovation from overlooked community to burgeoning hotspot. Condos and lofts are rivaling Victorian and Craftsman homes for most desirable living situation.
The Neighbors: Ethnically diverse couples and singles, young urbanites, artists
Flagship Neighborhood: Nob Hill
Also referred to as the Alphabet District and NW 21st and 23rd avenues, Nob Hill is a neighborhood of narrow streets where restored Craftsman and Victorian homes mingle with newer condos, apartments and lofts. Residents can walk to Pizza Schmizza, City Market NW and a slew of salons, cafes, boutiques and bars. There's a nonstop supply of pedestrians and a lack of parking. Housing prices range from the expensive to the very expensive.
The Neighbors: Renters, white, young to middle-aged, singles and a few couples
Also Consider: Pearl District
The Pearl is the most hyped community in Portland. Home to skyscrapers, Powell's City of Books and the Art Institute of Portland, this chic district is the city's premier urban neighborhood. Parks cohabit with companies North Face and West Elm, and a monthly art walk gives residents the chance to pound the pavement in search of Portland's next big cultural thing.
The Northeast quadrant of Portland has the city's most diverse population. Home to the likes of the city's largest African-American community, young couples, Little Vietnam and artists galore, this part of town is diverse not only culturally and ethnically, but economically as well.
Flagship Neighborhood: Alberta-Concordia
In recent years Alberta-Concordia's Craftsman, cottage and bungalow-style homes have been renovated and the area has become an in-demand neighborhood. Bicycles and buses pass almost as often as cars and the streets are alive with people walking dogs and taking strolls. Alberta Street features a stretch of one-of-a-kind restaurants, bars and boutiques and is a meeting place for the locals.
The Neighbors: Counterculture types, young couples without children
Similar to Alberta-Concordia but home to more working-class residents, MLK has a strong and growing African-American presence. Gentrification is changing the area, bringing retailers such as Starbucks and Walgreens in among the Ethiopian restaurants.
The Neighbors: African-Americans, couples in their mid-20s to 40s, homeowners, Hispanics, young couples with and without children
The Southwest is a hodgepodge of establishments and features: upscale retailers such as Saks Fifth Avenue and Nordstrom, beautiful natural settings like Washington Park (home to the Oregon Zoo), strip clubs and Portland State University.
Flagship Neighborhood: Downtown
Centrally located and surrounded by the Willamette River and the Pearl District, downtown Portland has everything a good urban center should have and then some. Portland State University is here, as are the Portland Saturday Market, the Heathman Restaurant and Bar, the Portland Center for the Performing Arts and a gaggle of spas and salons. Narrow streets encourage foot traffic and the 40,000-square-foot Pioneer Courthouse Square, nicknamed "Portland's living room," has an inviting outdoor atmosphere. Residents live in apartments and lofts and enjoy a vast array of parks and public statues.
The Neighbors: Renters, singles, night owls, pedestrians, empty-nesters with money
Also Consider: South Waterfront
Portland's newest development, South Waterfront, is the country's biggest sustainable living project. The city's tallest residential tower (31 stories) is here as is the Portland Aerial.
The Neighbors: Oregon Health & Science University employees, nature lovers
Portland's original bohemian neighborhood is in a state of flux. On one side are the cutting-edge boutiques of Hawthorne Street and some of the area's first bicycle corridors. On the other are new condominiums near Belmont, Clinton, Division and Stark that are driving up rents and bringing a highbrow vibe to the area.
Flagship Neighborhood: Hawthorne District
Known for its blend of laid-back hippies and entrepreneurial Gen-Xers, this part of town is comprised of the Mt. Tabor, Ladd's Addition and Richmond neighborhoods. Hawthorne Boulevard is where locals get breakfast at Utopia Cafe, browse books at Powell's Books on Hawthorne and shop for rocker-chick duds at Naked City. Hawthorne's bungalows, Foursquares and Victorians traditionally were a bastion for the counterculture types seeking modest housing, but new condos have transformed this once-affordable strip of land into one of the most expensive in the city.
The Neighbors: Hippies, hipsters, entrepreneurial sorts, singles and couples
Also Consider: Division-Clinton
Division-Clinton is a foodie's dream. Asian, Italian and vegetarian restaurants line the main drag, and the area is a mixed bag of residences and businesses. There's a string of art galleries in the area, a recording studio and the original Stumptown coffee shop. Homes vary in style and size.
The Neighbors: Young singles, middle-aged couples with and without children