Glenwood Park, GA: What It's Like to Live Here
This New Urban neighborhood resurrects the small town feel of days gone by.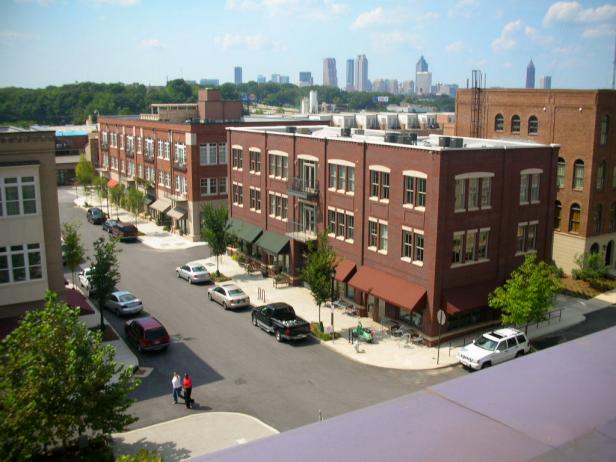 Atlanta, GA. Overhead Street View and Skyline : What it's Like to Live in Glenwood Park
Glenwood Park is located on the east side of Atlanta, GA on the BeltLine, a former rail line converted to a trail. It is a mixed-use neighborhood with walkable streets, many residential units and office, retail, and green space.
Courtesy of Wikipedia Commons.
If you're interested in living in a neighborhood that harkens back to a time when you could walk to the grocery store or coffee shop, Glenwood Park may be just the place for you.
Just two miles east of Atlanta's downtown, tucked between Grant Park and East Atlanta Village, Glenwood Park is a New Urbanism development with a mix of single-family homes, townhomes, condominiums and apartments. Shops, restaurants and other businesses are just a short walk away (or sometimes downstairs), and development of the neighborhood has been done with a sharp eye on environmentally friendly practices.
Some examples: Each week, Glenwood Park harvests approximately 35,000 gallons of water, using storm water and well water, to irrigate its drought-resistant landscaping. The project's developer, Green Street Properties, has also reduced storm water runoff by two-thirds.
Thousands of plants, including more than a thousand trees, have been planted on the site, which was once barren, to create a shady, beautiful neighborhood with lots of green space while reducing urban heat island effects.
Residents in Glenwood Park can choose to live in a condominium built above the very shops where they will go to get a cup of coffee, a meal, a haircut or attend yoga class. They can live in a townhome that has a stunning view of the Atlanta skyline and is a short walking distance to the neighborhood's park, swimming pool and commercial areas. Prefer a single-family home? Glenwood Park offers those too, in a neighborhood design that makes efficient use of land space while building a sense of community.
In addition to shops, restaurants and other businesses in the neighborhood's commercial center, Glenwood Park's design has included community space where civic meetings, parties and other events can take place. Young children can attend enrichment classes at a private preschool or early childhood music center in the commercial district. Stressed-out grownups can walk to yoga class. During the summer months, kids can swim for the Glenwood Park Piranhas, who practice at the neighborhood pool and participate in swim meets against other Atlanta-area teams. The neighborhood also collaborates with nearby communities including Grant Park and South Atlanta to provide tennis clinics, fitness camps and other activities.
For those who like to walk, bike or jog, city officials are planning to extend the Atlanta BeltLine, a former railway corridor that is being converted into a multi-use trail. Long-term plans for the BeltLine include the installation of a streetcar or tram.