Grant Park Apartments and Real Estate
This historic neighborhood offers surprisingly affordable housing options.
Grant Park Atlanta has a mix of homes and apartments that, for a historic neighborhood, can be surprisingly affordable.
Listed on the National Register of Historic Places, Grant Park's character has been preserved by restrictions that require renovations and new construction to be compatible with the neighborhood's architecture. You can find apartments and houses that look historic but are newly constructed, with up-to-date features.
For starters, there's GlenCastle, an apartment complex located in what was once Georgia's oldest prison. Designed to be "entry level housing," the 64 studio apartments at GlenCastle range in size from 320 square feet to 510 square feet. Monthly rent ranges from $400 to $525 per month, depending on the unit's size. The building is managed by Charis Community Housing, a nonprofit ministry, and application requires a criminal background check.
The Burnett at Grant Park, located on Confederate Avenue, has one- and two-bedroom units, with rent ranging from $930 to $1,530 per month. Amenities include a fitness center and valet trash removal.
You can also find condominiums here for rent or purchase. Oakland Park Condos, located near historic Oakland Park Cemetery, offer one- and two-bedroom units, ranging in price from around $150,000 to $250,000. You can also occasionally find a condo in this community to rent, for about $700 per month on up. Amenities include a rooftop deck with a grill and view of the city's skyline, covered parking and controlled access.
The Village at Grant Park, located on Grant Circle, is a gated community with around 30 townhomes. A two-bedroom unit lists for around $180,000. Amenities include gated access, a swimming pool and community garden.
The Enclave at Grant Park, located on Commonwealth Avenue, offers three-story townhomes within walking distance of the Beltline. The three-bedroom units sell for about $185,000. Renting one of these townhomes will cost you about $1,100 per month. Amenities include garages and private decks.
Condominiums can also be found for under $100,000; most of these are short sales or foreclosures.
Single-family homes can be found in a wide range of prices, for sale or for rent. Small cottages and bungalows can be found for less than $100,000, and prices go up to around $600,000 for a beautifully restored Craftsman home with state-of-the-art upgrades. You can also find new homes built with the same charm as the historic homes in the neighborhood. People who buy a home in Grant Park tend to set down roots, so there isn't much turnover among the higher end and larger homes.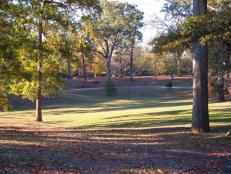 This historic neighborhood reflects the beauty and character of its namesake park.