5 Great Neighborhoods in Aspen
Learn about the best neighborhoods to buy a home in pricey Aspen, Colorado.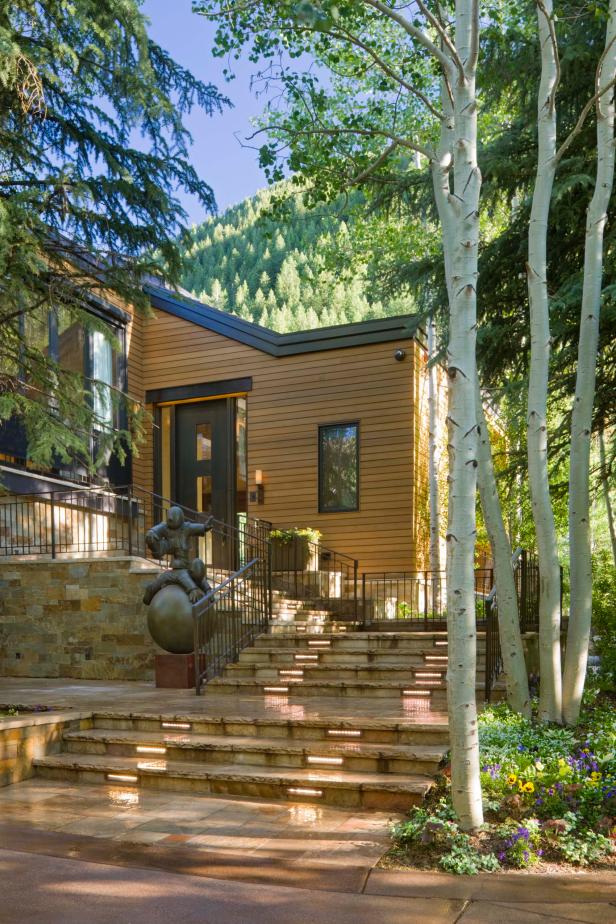 Front Entrance With Bronze Sculpture and Railings
A bronze sculpture by Rodrigo de la Sierra creates a lively tone at the front entrance to this Aspen residence. Bronze railings fabricated by Pitkin Iron line the stairway. Colorado-quarried stone supplied by Telluride Stone Company and cedar siding from Western Pacific Building Materials cover the facade.
There's just no getting around it: Aspen homes are expensive. The average home price is more than $4 million, and many of the trophy mansions and quaint residences are second homes that sit empty for much of the year.
For decades the town had been considered recession proof, but that changed in 2008. The woes of Wall Street and the national real estate crisis finally caught up with Aspen. Sales of single-family homes were down 60 percent for the first three quarters of 2008. Even so, it's not uncommon to see a home command an asking price north of $10 million. The big money is still out there, albeit more discriminating.
So how does the working-class make it here? It's not easy, that's for sure. Rental prices in Aspen rival those of Manhattan and San Francisco. Realizing the need to house the local workforce, the Aspen-Pitkin County Housing Office provides employee housing at cut-rate prices through a lottery system.
Winners of the lottery can purchase a home at a mere fraction of what it would sell on the free market. But if they sell the home, they cannot sell it on the free market, and its appreciated value is capped at 3 percent.
The price contrast between free-market homes and employee housing makes for an eclectic residential makeup comprised of ski bums and CEOs, pre-fab residences and 15,000-square-foot mansions.
No neighborhood in Aspen can match the beauty and charm of the West End. Exquisite Victorian homes rest on beautifully manicured lawns. At one time the neighborhood bustled with activity. Kids running around. Parents mowing lawns. Picnics and cocktail parties.
These days, however, the West End is mainly comprised of neighbors who only live there a few weeks a year. The West End is also the home of the Aspen Institute and the Aspen Music Festival & School -- two organizations vital to Aspen's cultural activity and summer economy. The Institute holds its world-renowned Ideas Fest every July, attracting a plethora of dignitaries and royalty, and the Music Festival hosts a nine-week classical festival each summer that attracts music lovers of all ages.
Also nestled among the West End are the Yellow Brick Schoolhouse, which has been converted to a daycare center, and the Red Brick Center for the Arts, occupied by local nonprofits like Aspen Public Radio and the Aspen Writers' Foundation.
The West End is a brisk walk away from Clark's Market as well as downtown, and bus routinely travel Main Street, which runs parallel with the neighborhood.
The neighbors: Jack Nicholson, Lance Armstrong and other celebrities, as well as a smattering of longtime locals and ski bums who bought property there in the 1960s and 1970s.
Unlike the neat and proper West End, Aspen's East End neighborhood is a smorgasbord of new monster homes, scattered housing projects for locals, and aging condos. The views of Aspen Mountain from the East End are impeccable and Snyder Park, in the heart of the neighborhood, is a veritable paradise for kids and picnickers, complete with waterfalls and a tiny jungle gym. Bus service is available, and it's a quick bicycle ride away from downtown.
The neighbors: Bank executives, artists, waiters, and second-home owners.
A remnant of old Aspen can be found on Cemetery Lane, which runs alongside the Aspen Golf Course. Unlike Red Mountain or the West End, Cemetery Lane is home to full-time residents. Many of the neighbors are longtime locals who never sold out. Others are newer residents to Aspen who've decided to make it their year-round home. The homes are a mix of new and old and new, and mostly free market. A strictly residential neighborhood, Cemetery Lane is secluded from Aspen but has a number of sidewalks and trails that put residents a healthy walk or quick bike ride away from town. Bus service is also available.
The neighbors: A mix of longtime locals and second-home owners, as well as young professionals
A four-block radius comprises at least eight affordable-housing developments -- Hunter Longhouse, Williams Ranch, Smuggler Trailer Park, Lone Pine, Hunter Creek and Centennial, all within walking distance of downtown and on the free bus route. This is where the locals live. Centennial is located just beneath Smuggler Mountain, a popular hiking and biking area known as Aspen's playground.
The neighbors: Families, senior citizens and young couples. It's where the small business owner lives, as well as the fire fighters, teachers, and massage therapists.
Red Mountain is an enclave of mansions perched on a hill above Aspen. Red Mountain Road winds up the mountain, with roads leading off the main drag to gated communities of palatial estates. The wealthy enjoy jaw-dropping views of Aspen. The low-end homes on Red Mountain will fetch in the neighborhood of $7-8 million. The high-end ones can command more than $20 million.
The neighbors: Fortune 500 CEOs, professional athletes, celebrities