5 Great Neighborhoods in Brooklyn
Explore the communities of Park Slope, Bay Ridge, Williamsburg and Greenpoint, Clinton Hill and Bushwick, as well as nearby neighborhoods.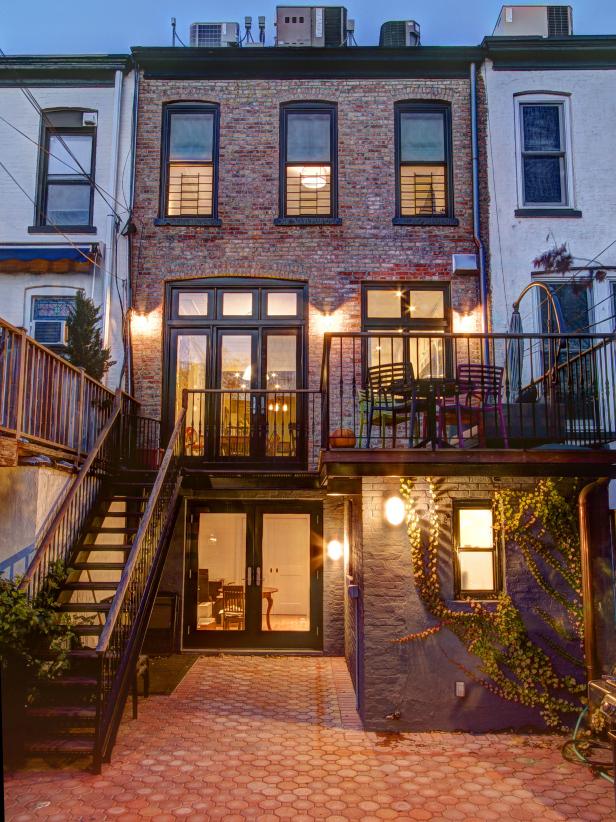 Brooklyn Brownstone Facade
The rear facade of this Brooklyn brownstone features Ipe decking, stairs, windows and doors. It's absolutely charming and it reflects a perfect balance between the old and new with traditional touches.
Photography by Marco Valencia
Brooklyn is a borough of neighborhoods -- more than 30, to be exact. Each is distinct and unique, boasting its own personality. The neighborhoods are as diverse as the people living in them, and all are rich in history. Some neighborhoods, especially those in north and northwest Brooklyn, have become real estate hot spots despite the ups and downs of the unpredictable real estate market. If you're lucky enough to own an authentic brownstone built around the turn of the century, you're holding priceless equity that's better than a blue-chip stock.

The days of Brooklyn taking a back seat to Manhattan are long gone. For young professionals from all over the U.S., Brooklyn has become the hot place to live, with the pricey rents and home prices to prove it.

The best way to scope out the neighborhoods is to visit each one, preferably on a nice day, when people are outside and you can get a sense of what a neighborhood is all about. Don't rely solely on guidebooks or real estate agents. See things for yourself and draw your own conclusions.
For more than three decades, the Park Slope section has been a hot section for young, upwardly mobile professionals and has ascended to a postcard definition of a true yuppie community. It's considered an ideal place to raise children because the neighborhood is safe, most of the public schools are excellent and there are plenty of highly touted private schools in adjoining neighborhoods.

Main drag 7th Avenue is a hopping shopping street. And new restaurants keep opening on parallel streets 5th and 6th Avenues. Many of the streets feature large, landmark, turn-of-the-century brownstones in pristine condition.

Park Slope wasn't cheap in the early 1980s, and today, apartment rentals and home prices are some of the highest in the city. If you're lucky, you can find a brownstone for under $1 million in good condition. The entrance fee to Park Slope is money -- lots of it.

The Neighbors: Diverse, eccentric, a healthy mix of corporate fast-trackers, media professionals, artists, musicians and filmmakers. Trendy young urban professionals on the move. Singles in their 20s and 30s as well as young married couples with children.
Located along the F subway line, Windsor Terrace is bordered by Greenwood Cemetery on the west and Prospect Park on the east. It's a tiny, quiet, tree-lined family neighborhood defined by brick row houses and wood-frame homes built around the turn of the century.

Gowanus:
Once a busy waterway and a hub for Brooklyn's maritime and commercial shipping activity, the Gowanus Canal became one of the most polluted sites in New York City. When it was abandoned by industry, the section languished for decades. Since 1999, when funding for a cleanup was approved, the canal was dredged and flushed so that the water was no longer contaminated. As soon as cleanup efforts for the canal began, revitalization of the spacious factory buildings got underway as well.

While most of the buildings have been renovated for residential use, there are still buildings that haven't been touched because renovations are so costly. But it won't be long before they're gobbled up. A few champions of the restoration efforts have called Gowanus the "Venice of New York," alluding to its special mystique and urban charm.
Bay Ridge has changed little in half a century. Very different from trendy Park Slope, Carroll Gardens, Boerum Hill and Cobble Hill, which are all close to Manhattan, Bay Ridge is a mixture of new and old. While the neighborhoods close to the Manhattan and Brooklyn bridges boast a neighborhood feeling, Bay Ridge has a small-town feeling. It's largely because the streets within a mile of the Verrazano-Narrows Bridge and close to the bay (the entryway for all ships docking in Manhattan) are filled with both attached and detached homes. The detached homes have driveways, garages and backyards. There are also gated mansions in the elite, old-money Harbor View section (encompassing four or five blocks overlooking the water close to Fort Hamilton High School on Shore Road, between 84th and 85th streets).

The big change is that Bay Ridge has grown into a thriving and diverse neighborhood, boasting great shopping on the main drag, 86th Street, and incredible restaurants along Third Avenue, running from 69th Street all the way to the entrance to the Verrazano Bridge.

Bay Ridge is by no means cheap. But a decent house in excellent condition is a lot more affordable than in Park Slope. And there are plenty of homes on the market, according to real estate agents. The good news is that you can still buy a two-bedroom, two-story detached house for less than $1 million, which by New York City standards is a good deal. You can do better if you're willing to take an attached house or a condominium.

While Bay Ridge is pretty and still affordable, be warned: It's a 45-minute commute to Manhattan on a good day and can be more than an hour on most days.

The Neighbors: Established married professionals in their mid-30s to late-40s with children. It's particularly attractive to couples who want outdoor space and want to be close to the water and many of the nearby parks, which dot the long Shore Road stretch from 101st Street to the 69th Street Pier.
The name comes from the section's red clay soil. While gentrification is well under way, and houses are getting harder to find, the area owes its special ambiance to its waterfront location: Red Hook's docks offer a breathtaking view of the Statue of Liberty. Its industrial factories, many of which are on the waterfront, are rapidly being transformed into pricey condominiums. On gusty days, lucky occupants can feel wind and water pelting their windows and balconies. It's the next best thing to being on the deck of a ship or fishing boat.

Once a tough, gang-infested South Brooklyn neighborhood and home of legendary crime boss Al Capone, Red Hook has ascended to expensive cool. Along with art galleries, restaurants and funky bars, you also have great shopping. The sprawling Fairway Market on Van Brunt Street and nearby IKEA are busy all day long.

The turning point for Red Hook was the Brooklyn Cruise Terminal, which opened in April 2006. When the 153,000-ton Queen Mary 2 was guided into the Brooklyn terminal with its 2,200 passengers, it marked the beginning of a new era not only for Red Hook, but for the entire downtown section of Brooklyn. Other major cruise lines also signed agreements to use the Brooklyn terminal.
WILLIAMSBURG AND GREENPOINT
Boundaries: Bordered by Newtown Creek to the north, Queens to the east, Flushing and Kent Avenues to the south and the East River to the west. The neighborhoods are separated by North 7th Street, with Williamsburg to the south and Greenpoint to the north.

Both Williamsburg and Greenpoint have eclipsed Manhattan's East Village as the place to be for young professionals, artists and writers looking for reasonable and spacious digs. Although well into the throes of gentrification, they're still classic Brooklyn neighborhoods, rich in history and tradition.

Like two countries separated by a border, they're very different in terms of their geography, the people who emigrated there and the industries they spawned.

Williamsburg is often called "the new Soho" because it is home to both aspiring and established artists and musicians, as well as successful professionals and their families, who commute by subway, bus and bike to Manhattan every day. Like Park Slope, Bay Ridge and a bunch of other neighborhoods, Williamsburg no longer offers cheap digs.

In the 1900s, Williamsburg prospered and was a hotbed of industrial growth. It was the home of Astral Oil, which later became part of Standard Oil. Charles Pratt, whose family founded the Pratt Institute, a respected school of art and architecture, launched the company. Corning Glass Works was founded in Williamsburg, as was Pfizer Pharmaceutical, founded by chemist Charles Pfizer and his cousin Charles Erhart. The area was also known as Brewers' Row as it was home to dozens of breweries.

It was the opening of the Williamsburg Bridge in December 1903 that marked a historic turning point for the neighborhood. Now it was accessible to thousands of immigrants and second-generation Americans waiting for an opportunity to leave Manhattan's crowded Lower East Side tenements and build better lives for themselves and their families.

Prior to World War II, Williamsburg was the most densely populated neighborhood in the U.S. Following the war, it experienced its most startling changes, and rapidly became a melting-pot magnet for refugees fleeing war-torn Europe, particularly Hasidic Jews. At the same time, Williamsburg also drew Hispanics from Puerto Rico and the Dominican Republic. By the 1980s, it had become an interesting blend of old and new. The area's renovated factories and industrial buildings are still attracting artists and entrepreneurs looking for large, open spaces and high ceilings, which they can carve into workspaces or studios and elegant living quarters.

The Neighbors: A vibrant ethnic mix of people, from Hasidic Jews to Puerto Ricans, ranging from longtime immigrants to young artists

Greenpoint

To the north, Greenpoint was once rich and fertile farmland dotted with sprawling farms, orchards, cattle and sheep and initially inhabited by Indians (Keshaechqueren, a sub-tribe of the Lenape) until the late 18th century.

During the 19th century, Greenpoint became a thriving industrial hotbed, supporting shipbuilding and waterborne commerce, printing, pottery, glassworks and foundries. It attracted generations of immigrants from Germany, Ireland and Poland. Walk Greenpoint's East River waterfront and you'll get a sense of the neighborhood's rich maritime history. In fact, the USS Monitor -- the first ironclad warship built during the American Civil War -- was built in Greenpoint's dockyards. While Greenpoint is changing rapidly, it's still referred to as "Little Poland."

The Neighbors: Diverse blend of Polish, Hispanic, Italian and Irish communities, multiple generations, working-class immigrants
Boundaries: In the north-central section of Brooklyn; bordered on the east by Bedford-Stuyvesant, on the west by Fort Greene, on the north by Wallabout Bay, and on the south by Prospect Heights
Many Brooklynites think of Clinton Hill and its larger neighbor Fort Greene, which is well into gentrification, as one neighborhood. But they are not. In the mid-19th century, Clinton Hill was a fashionable neighborhood, with many of the city's millionaires living in mansions that lined Clinton Avenue. Charles Pratt, founder of the Pratt Institute of Art, built a few of them for himself, and one for each of his three sons.

The neighborhood's charm and major attraction is its thriving arts community, largely due to the Pratt Institute, which has been attracting artists to the area for more than a century.

Another attraction is its industrial areas adjacent to the Brooklyn Navy Yard. An up-and-coming section that's still a well-kept secret is Wallabout. A Brooklyn blogger called it the next DUMBO. "Wallabout" was coined from the East River's Wallabout Bay when the federal government built the Brooklyn Navy Yard in 1801. Until the late 1890s, a produce market operated in the area. The Navy Yard reportedly was the largest construction facility in the U.S. until World War ll. But when it was discarded and abandoned, New York City purchased 225 acres to build an industrial park located on its site. This acreage, spanning a mile-long stretch north of Fort Greene and Clinton Hill between Flushing and Park Avenues near the Navy Yard is slowly being transformed. Off the beaten path but accessible by subway, it appeals to artists and young professionals with a pioneering spirit.

Most of the development taking place in Wallabout is centered around Steiner Studios, the Navy Yard's film-production facility, which opened in November 2004 on a 15-acre site. In 2007, it expanded into a 305,000-square-foot, seven-story building inside the yard. The studio, which has hosted shoots for blockbusters Spider-Man 3 and Inside Man and dozens of television shows, has been a major factor spurring interest in the Wallabout section.

The Neighbors: A healthy blend of young urban professionals and their families, along with hardworking young artists who hope to carve a niche for themselves in New York's larger arts scene

ALSO CONSIDER:

Fort Greene

Boundaries: Bounded by the Brooklyn Navy Yard and Nassau Street to the north, Flatbush Avenue to the west, Vanderbilt Avenue to the east and Atlantic Avenue to the south; its main drags are St. Felix Street and Dekalb Avenue

Fort Greene boasts magnificent brownstones and one of the borough's busiest and most eclectic shopping districts, which features everything from small local merchants and shops to major chains. The neighborhood is still emerging, thanks to the Brooklyn Academy of Music's "cultural district" and the Atlantic Yards complex.

While rental space can be pricey, home prices are reasonable compared with other hot areas.

The Neighbors: A potpourri of single professionals; young married couples; and media types, artists and musicians looking for relatively inexpensive homes to buy or rent. If you're single, it might be the ideal place to plant yourself, because about three-quarters of the area's residents are single, according to the neighborhood's demographics.

DUMBO

An acronym for Down Under the Manhattan Bridge Overpass, this once-bustling industrial neighborhood has emerged into a vibrant fusion of 19th-century warehouses, art galleries, and spacious and elegant condominiums featuring high ceilings, large rooms and terraces. DUMBO is defined by its breathtaking location, which has made it a choice location for well-heeled professionals, corporate decision-makers and successful artists.
BUSHWICK: BEST-KEPT SECRET FOR PIONEERS ONLY
A two-square-mile neighborhood of 100,000 people in central Brooklyn is a best-kept secret for pioneers only. Bushwick is an emerging fringe neighborhood in the early stages of gentrification, ideal for the single urban professional looking for an edgy, evolving and comparatively inexpensive neighborhood. Artists, freelance writers and graphic artists might find Bushwick inspiring because it's one of those rare neighborhoods still in a transition state.

Bushwick is a classic blue-collar community that was all but forgotten and untouched by gentrification until the mid-1990s. Roaming Bushwick's streets today, it's hard to believe that it was once a bucolic 17th-century town. Today, the neighborhood is largely Hispanic and, compared to other neighborhoods, apartments are cheap.

There are always deals to be found, but they're getting harder to find. The great buys typically don't make it to real estate brokers' listings or newspapers' real estate ad pages. Whether it's a 100+-year-old brownstone or a floor-through apartment, these deals are done privately. Here are some insider tips:

In most of the old-line Brooklyn neighborhoods, houses are kept in the family and passed from one generation to the next. If they're sold, the transaction is low-key and the buyer is a relative or close friend of the family. Your chances of renting an apartment are a lot better, especially if you make the right connections in the neighborhood, or you live close enough that you can pick up the neighborhood gossip.
In desperate situations, i.e., the death of a matriarch or patriarch or inter-family strife, homes are often sold via a third-party real estate broker or attorney. Typically, the family's goal is to sell the property to the highest bidder and divide the proceeds as quickly as possible.
The secret to either buying or renting is to befriend the owners. Brooklynites are clannish and don't like to sell or rent to people they don't know. This isn't easy, but it can be done if you're persistent and willing to invest time in basic detective work.
Hang out in the neighborhood you hope to plant roots in and start talking to the locals. Practically every street has its power brokers. Schmooze with them -- you'll be pleasantly surprised by what you'll learn.
If your goal is to buy a home in one of Brooklyn's hot neighborhoods, and you're in no hurry, you might be better off renting for a couple of years so you can network in the neighborhood.
Ideally, you can save a bundle if you can find an apartment on your own rather than go through a real estate broker. The real estate brokers, especially the successful ones with offices in several neighborhoods, are good at uncovering hot leads. However, you pay a hefty premium for their services, to the tune of one or two months' rent. Also, some local landlords don't like real estate agents' high-powered sales tactics and would rather screen their own candidates and make their own decisions. They feel it's worth the grunt work to get a tenant they trust and feel comfortable with.